When it comes to pulling out the stops and throwing an epic party, FASTSIGNS® Leeds know how to do it. On Thursday 3rd March FASTSIGNS Leeds opened their doors to invite customers, friends and family to celebrate their 20th anniversary. Leeds City Cllr Christopher Townsey attended the event on behalf of the Mayor of Leeds, to honour the successes and hard work of the Yorkshire based business.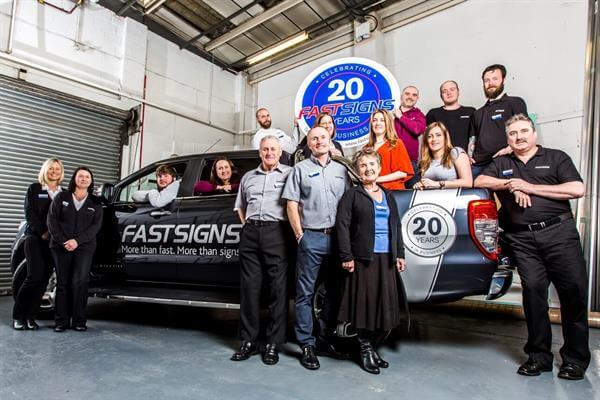 The team worked tirelessly throughout the week arranging decorations, food and entertainment. From branded merchandise to new vehicle graphics, the design and production team used all of their skills, and most of their vinyl, to make sure that their anniversary was celebrated in style.

There were live demonstrations throughout the afternoon of vehicle wrapping, flat bed printing and cutting on the mind blowing Zund cutter, where guests could take home FASTSIGNS jigsaw puzzles as a keepsake of the afternoon.  A tempting array of food and drinks were provided as well as a treat for guests to take home - reusable goodie bags chocked full of branded FASTSIGNS treats and goodies.

In preparation for the event, FASTSIGNS Leeds designed an enormous wall graphic to be displayed in the centre entrance. With pictures of previous projects and awards won over their 20 years, this timeline showed The Simpson's journey from fledgling business owners, to the top performing FASTSIGNS centre in the UK.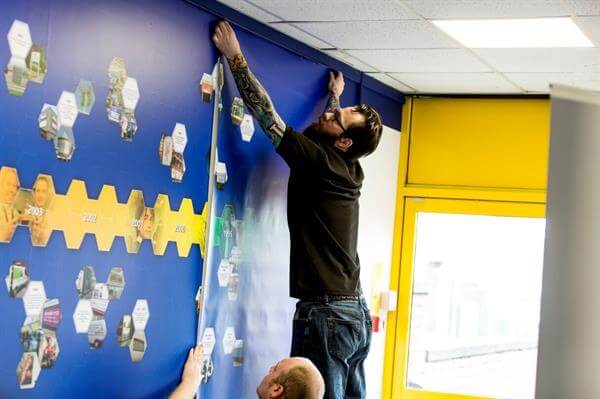 And it wouldn't be a celebration without some party games – the Leeds team hosted an array of fun challenges including a FASTSIGNS quiz and a Scrabble teaser with the chance to win a Magnum of Champagne.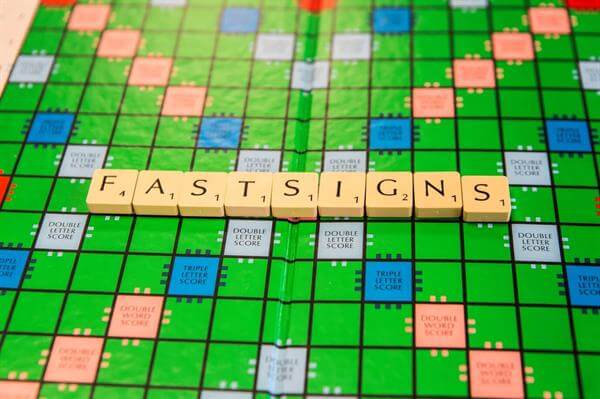 The main event of the afternoon was the raffle, where the team raised £500 for St Gemma's hospice, a local charity dedicated to providing care and support to people with cancer and other life threatening illnesses. FASTSIGNS Leeds has been supporting St Gemma's for a number of years and this recent donation will go a long way to supporting the patients and families most in need.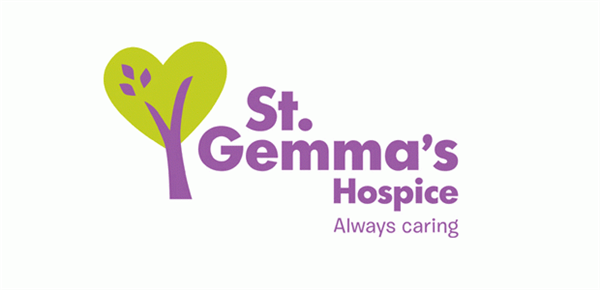 To find out more about FASTSIGNS Leeds or supporting St Gemma's Hospice get in touch on (017) 852-5314 x0.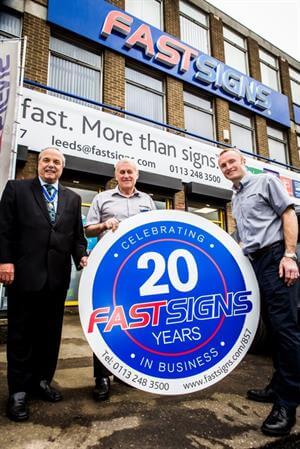 If you are considering a re-brand or are in need of visual graphic solutions get in touch with our signage professionals at FASTSIGNS Leeds on (017) 852-5314 x0 or visit www.fastsigns.co.uk to find your nearest centre.
If you want to help those in need of care and support for life threatening illnesses visit www.st-gemma.co.uk to donate to a worthy cause.