Discover 5 different ways you can create an engaging workspace from a tired old blank wall in this blog from visual communications experts, FASTSIGNS Leeds.
A pleasant environment can help us feel happier and more productive at work. Companies like Google have been known to install everything from slides and hanging chairs, to cinema screens and even basketball courts.
But while extravagant features like these might not fit within your business (or your budget!) there are many quick and affordable ways to transform your workspace. Brightening up a dull space or blank wall is one such way.
Here are 5 easy ways you can create something uplifting from an empty wall space: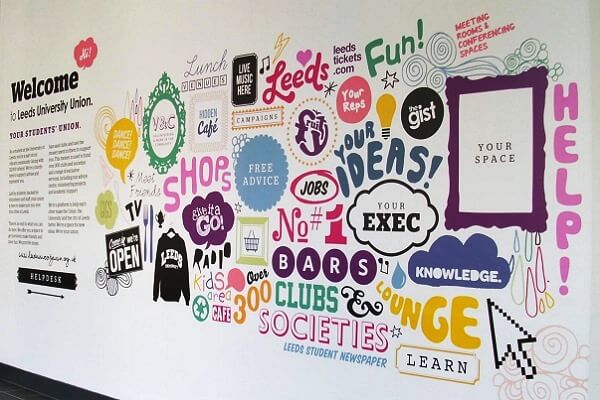 1 . Inspire creativity with custom wall graphics
Wall graphics are the cost-effective way of instantly transforming any shared space. Brightening up a blank wall with printed images and graphics helps to make a space your own, as well as creates a pleasant environment for everyone to enjoy.
A non-permanent alternation, wall graphics are a useful way of injecting a bit of personality to rented or temporary premises.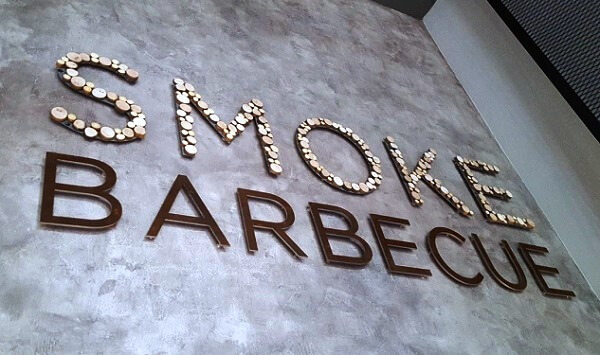 2. Brand your space with smart wall lettering
The entrance to your work space should set a precedent for the rest of your organisation and smart wall lettering creates a fantastic first impression for visitors and employees alike.
Wall lettering also presents an opportunity to introduce yourself to passers-by. Are you a creative bunch? Do you have a strong corporate entity? Or maybe you're ethically-driven? Tell people who you are with wall lettering that reflects your values.
3. Share your successes with a company timeline
Timeline displays are a fantastic way of celebrating your organisation's achievements and inspiring future successes. Making sure people feel proud of what they've achieved is a great way of helping your employees feel a part of something.
Timeline graphics are also a fantastic way of sharing your achievements and accreditations with visitors and creating a strong first impression.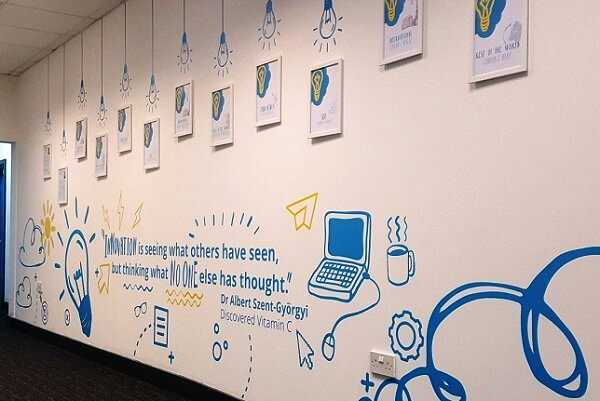 4. Reinforce your vision and values
Whether you're a school, a call centre of a manufacturing site, your organisation will have shared values that underpin everything you do.
Creating a visual reminder for everyone to see each day helps to reinforce these values and remind people what they are striving towards.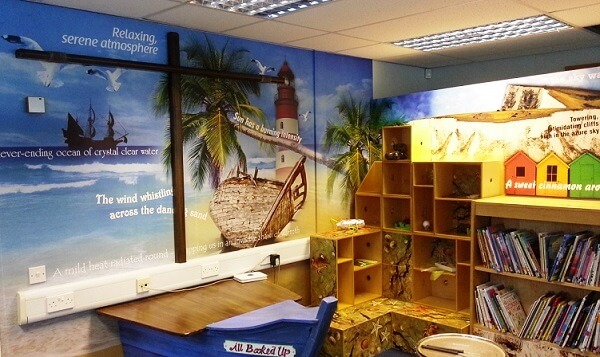 5. Brighten up a dead space
The best thing about wall graphics is that they can be there simply to brighten up your day. Commercial or public places don't ever have the same cosiness as our homes, so adding a splash of colour or visual intrigue immediately makes a space feel more friendly and inviting.
We spend a large part of our lives in our working environments and there are endless ways to make them more rewarding.
Want to transform your blank space(s)? Tell us your vision and we'll help you get started.