Find out how Rebecca Holliday, Senior Account Manager at FASTSIGNS® Leeds, ensures her customers always receive the best possible signs and graphics.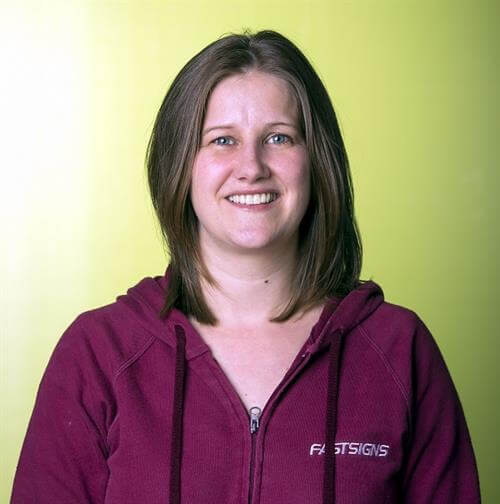 We're a tight-knit team at FASTSIGNS® Leeds and everyone brings their own unique skills to the job.
This week, we find out how long-standing employee Rebecca Holliday ensures every customer receives the best possible signs and graphics for their project in her role as Senior Account Manager.
Q: How long have you been with FASTSIGNS® Leeds and what originally attracted you to the business?
A: I've been with FASTSIGNS® Leeds, since May 2000 – almost 17 years! The job I was doing when I first started was in customer service and so had most of my previous roles so it's always been familiar territory. Before I started working full time I was at Art College, doing a 3D design course focused on product and interior design.
The FASTSIGNS role seemed to bring together the two areas, enabling me to help people and utilise my creative training – something that previous roles had lacked. I'm not sure how much I believe in fate but I walked into a recruitment agency one day, had my interview the following day and was offered the job two weeks later, so it seemed like it was meant to be!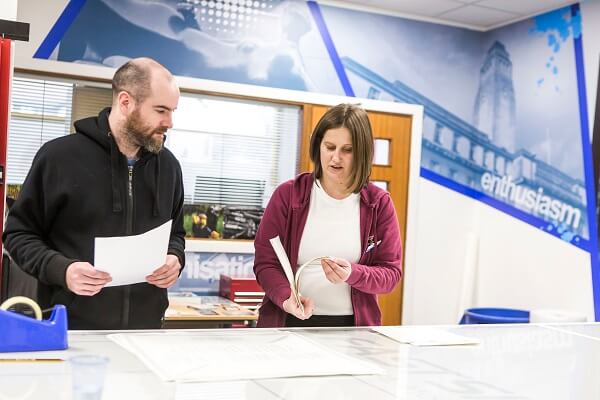 Q: As Senior Account Manager, what does your day-to-day role typically involve?
A: I don't really have a typical day, but I focus on existing large account customers as well as picking up some new enquiries. I deal with a lot of the larger and more complex projects, providing solutions and quotes for whatever the customer needs, as well as processing orders and liaising with customers during the production process.
I write up job details for production, order materials, and organise fitting teams… the list is pretty endless! I enjoy the fact that each day is different and, although I don't always get through my 'to do' list at the end of each day, I get a lot of job satisfaction.
Q: What do you find most challenging about your role?
A: Finding the time to do everything! It's a very reactive role so I may come in on a morning with a plan of action but generally that isn't how my day works out. Juggling all the different things I need to do to make sure that everything runs smoothly can be pretty difficult but I'm well practised by now.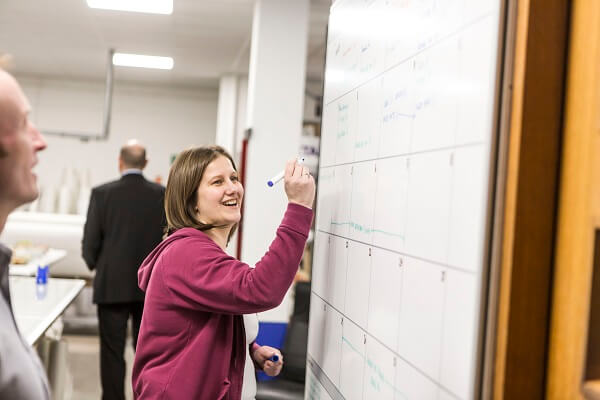 Q: What do you find most rewarding about your role?
A: I like seeing a job through from start to finish and being involved in the whole process. It's really rewarding to see a completed job and a happy customer. I also work with a fantastic team of people.
Q: How do you make sure that FASTSIGNS® Leeds customers consistently receive the best possible service?
A: Communication is the key to making sure that the service is the best possible – both with the customer and also with my colleagues and suppliers. I make sure I fully understand the customer's needs (even though they don't always know themselves) and always specify the right product for their project, even if it might not be what they initially asked for.
I keep the customer up to date as much as possible all through the process. I try to be honest and if I think someone else is better placed to help one of my customers then I will refer them on.
Q: What do you think sets FASTSIGNS® Leeds apart from the competition?
A: I think we have a great team of people who are willing to go above and beyond what is required of them. We also have a great network of suppliers and the other FASTSIGNS stores to call upon for shared knowledge and expertise.
Got an upcoming project? Tell us your idea and we'll help you get started.