Meet Martin our Production Specialist at FASTSIGNS® Leeds and find out what experience he brings to the production of signs and graphics for our customers.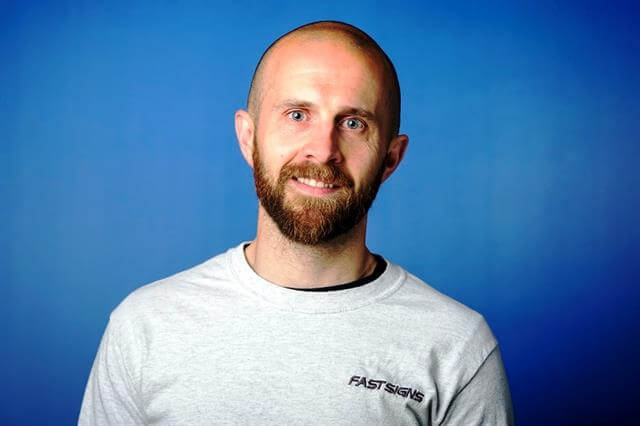 We're a tight-knit team at FASTSIGNS® Leeds and everyone brings their own unique skills to the job. One of our biggest assets is our production team, who create and produce a huge range of signs and graphic using our larger format printers and digital cutters.
We find out a little bit more about long-standing team member Martin Brook and what he brings to his role producing signs and graphics for our customers.
Q: How long have you been with FASTSIGNS® Leeds?
A: I started in 2002. I was actually in Australia at the time but knew some of the guys who worked here and was made aware of a job opening. I had heard great things about the business so jumped at the chance to join. Within a week of landing back in the UK, I was a member of the FASTSIGNS® Leeds team.
Q: What's a typical day like in production?
A: We offer such a wide range of custom products at FASTSIGNS that there really is no typical day! I could spend one day focused on printing hoarding graphics, then the next day I could be doing something more artistic like printing canvasses. I'm also occasionally required on site at installs to help make sure projects are accurately finished.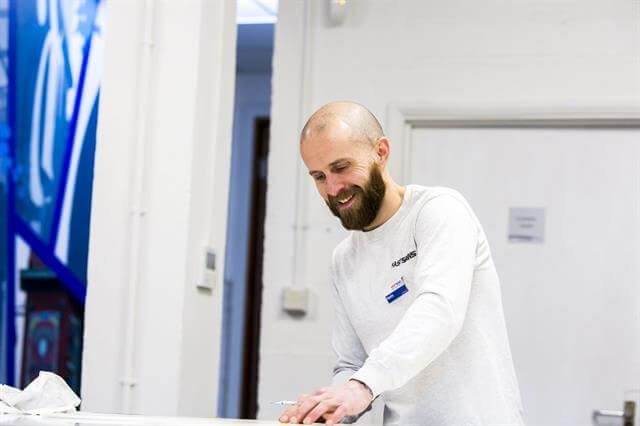 Q: How do you ensure every project is completed to the highest possible standard?
A: We've got a huge wealth of experience within the production team – and some pretty fancy printers too! This combination of state-of-the-art machinery and a more than capable team means I never have to worry that we will produce the best quality end-product, every time.
Q: What's the most memorable project you've worked on?
A: That has to be the Leeds Trinity Shopping Centre opening back in 2013. It was a month of organised chaos! Joking aside; with great organisation, planning, hard work and communication it all went smoothly and was completed on time.
Q: What are the trickiest signs / graphics to produce?
A: Sometimes the simplest things can be the trickiest, like cutting and weeding small text. The more complex signs may take a bit of teamwork and some trial and error before we get the final product. However, this never affects the client. If it takes us a few goes to get it exactly right, then that's what it takes!
Q: Are there any new techniques you see getting bigger?
A: Production is always evolving. This may come from using a new tool, new machinery – or a simple idea – and could change the way you've been doing something for years. For example, I recently watched a video on lamination and found a simple new method for doing something I've been spending time on for years. We share this type of information within the team and it helps to keep us at the forefront of our industry.
Got an upcoming project and need some design inspiration? Get in touch to chat with our team or check out our case studies page for a bit of inspiration.