Read this Q&A blog with FASTSIGNS® Leeds Director, Andy, to find out about the past year's highlights from the world of signage and printed graphics.
It's been another brilliant year at FASTSIGNS® Leeds and we've been kept busy providing signs and graphics to businesses and organizations across Leeds. In fact, you can take a look at some of our more recent installations (which you might even recognise), in this blog.
But as the year comes to a close, we wanted to look back at what's been happening here at the FASTSIGNS® Leeds office and discuss some of 2018's highlights. So, we caught up with Managing Director, Andy Simpson, for a chat...
Q: What have been your highlights of this year?
A: Well, I was strapped up for several weeks earlier in the year after a knee replacement. This definitely wasn't a highlight... but successfully recovering was! And 5 months after the operation, I was able to complete 129km of the Tour de Yorkshire. It was a fantastic day and an achievement I'm very proud of.
🏅🚴♂️ #TDY pic.twitter.com/x6aMsTvup2
— FASTSIGNS® Leeds (@FASTSIGNS® Leeds) May 8, 2018
Our team continues to grow, most recently with the addition of business development manager, Craig Daniels. We always enjoy the opportunity to get together as a team, particularly when it involves food! Here's a picture of us during the world cup, when everything looked so hopeful...
⚽️🏆🏴󠁧󠁢󠁥󠁮󠁧󠁿 It's coming home! 🏴󠁧󠁢󠁥󠁮󠁧󠁿🏆⚽️
Do you believe it? #FASTSIGNSBELIEVES #ENGCRO #WorldCup pic.twitter.com/fMRWxs3caZ
— FASTSIGNS® Leeds (@FASTSIGNS® Leeds) July 11, 2018
 
Q: You produce signs and graphics for a huge range of businesses and organizations. Tell us about one of the most standout projects the team has completed this year.
In terms of signage, the Grammar School at Leeds was a particular highlight. The requirement was large and there was tight time pressure to complete the installation during the Easter break. But with rigorous planning and organisation, we designed, produced, and installed 60 different signs in less than 3 weeks. It was fantastic to watch the team come together to turn the project around so quickly.
There was also the series of shields we designed for Hawksworth Primary School. Craig worked with head teacher Abi on the brief to create 4 original designs based on mythical creatures. The crests were printed onto wooden panels and installed in the main hall. They look brilliant!

Q: Are there any new products on the horizon for next year?
We're currently looking into other products we can create using our UV flatbed printer. The production team is always researching and trialing new methods and we get plenty of inspiration from other FASTSIGNS branches around the world too.
Creating printed wooden signs is one avenue we're exploring. Many businesses are now opting for a traditional-looking facade, as well as asking for signage in more renewable materials. Printing onto a wooden signage board is one way we can fulfill this requirement.
Q: What's been the most rewarding thing about this year?
There's been a lot going on this year, both on-site and otherwise. Not to mention the time spent resting my knee! But the most rewarding part of this year is coming to the end knowing we've done a great job for our clients and have delivered some fantastic-looking signs and graphics.
Q: What does the team have planned to celebrate the Christmas break?
Chris and Catherine Simpson (my parents) are taking me, my sisters, and our families on a cruise to celebrate their 50th wedding anniversary. We celebrated earlier in the year but this will be a fantastic, memorable way to commemorate the milestone.
In termsm of the team, we always do a festive Christmas fuddle. We have some talented bakers in the office and love an excuse to get together and do our best Great British Bake-Off judging impressions! Our team Christmas do was in early December when we went crazy golfing.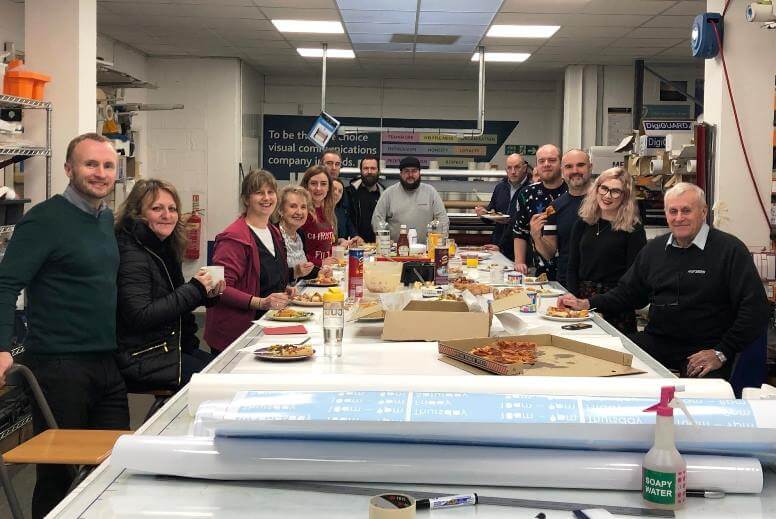 Q: Tell us a bit about some of the charity activities the team has been getting involved with.
We're longstanding supporters of St Gemma's Hospice and raise money for them wherever we can. We supported the Yorkshire Evening Post's 'Light up a Life' campaign in conjunction with St Gemma's by providing a banner stand, which is something we've been doing for over 10 years.
We also support Leeds Mencap and recently hosted a coffee morning in aid of their work. There was a quiz, raffle, and plenty of baked goods, plus we managed to raise over £150!
Want to hear more from theFASTSIGNS® Leeds team? Follow us on Facebook, Twitter, and LinkedIn for regular updates from the team.