FASTSIGNS® Leeds will be closed between 21st Dec and 2nd Jan. But order before the 19th Dec and we may be able to arrange your print or signage in time for Christmas.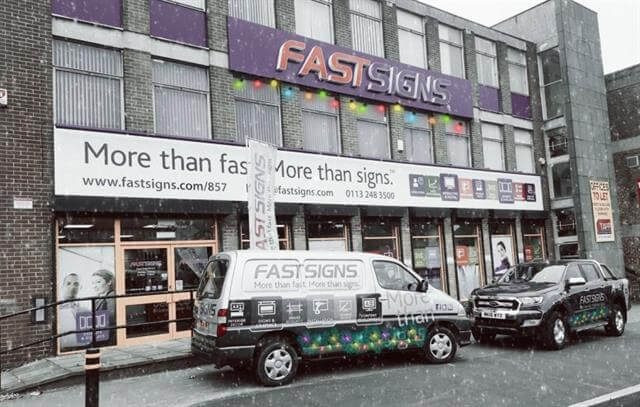 It's been another hectic year at FASTSIGNS® Leeds
We've been kept busy supplying signage and graphics to the people of Leeds. And we wouldn't have it any other way! But the year's not quite over yet and if you're looking for pre-Christmas printing or signage, there's still time to order.
Maybe you want to get set for the January sales? Prepare for an event in 2019? Or perhaps you want to go into the new year with some fresh new branding? Just tell us your idea and we'll help you make it happen.
We're taking orders up until December the 19th
Our Leeds printing facility is closed for the Christmas break from Friday 21st and will reopen on Wednesday 2nd January 2019. We're currently taking orders so if you need anything produced before then, please get in touch as soon as possible.
If you've got any messages to share in January, you can tell us now
January is always a busy time for catching up – and waking up! Why not give yourself one less thing to think about and order your January print now?
Sales, events, news, and promotions – tell us about these things now and we can work on a strategy for the new year. It's our priority to make ordering your print as hassle-free as possible, which is why we're always happy to help with advance orders.
Want to discuss a pre-Christmas or early January printing project? Just call the Leeds office on (011) 351-9462 x8 and we'll give you some timeframes.