Meet Jonathan, one of our graphic design team at FASTSIGNS® Leeds, and find out what experience he brings to the creation of signs and graphics for our customers.
Q: What's your role at FASTSIGNS® Leeds and what does your day usually entail?
A: I am one of three members of the design team here at FASTSIGNS® Leeds and my job can vary from day to day. We all help each other out and work on a range of different projects, depending on what the priorities are for that particular day.
In my role, I work on a range of design tasks, from updating existing artwork or executing a customer's idea, to creating a full design concept from scratch. It's great to be able to tap into my design knowledge and help add to a customer's request.
Q: What's the most challenging part of your job?
A: Efficiently outputting artwork can be a bit of a challenge. We produce a large number of designs each week and have to maintain a constant and productive workflow to get everything produced to the deadline.
Thankfully, we have a wealth of experience to draw upon and state-of-the-art digital print technology – which helps! We also work closely with the production team and account managers throughout the day to help make sure each project is moving along nicely.
Q: How does your team add value to client briefs?
A: Within the design team, we can call on our experience to provide clients with a solution that not only meets but surpasses their aims and requirements. I feel we can add a real creative dimension to the client's experience of working with FASTSIGNS® Leeds – which is nice to see!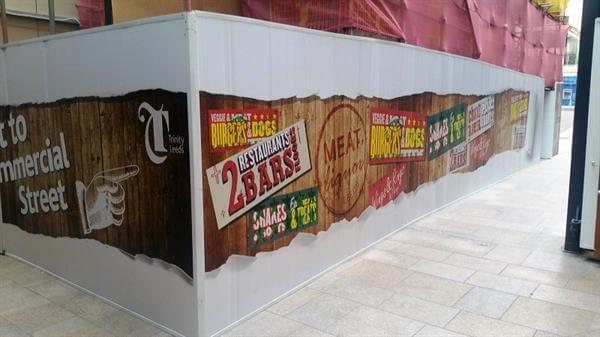 Q: Are there any projects you've worked on that you've been particularly proud of?
A: There have been quite a few projects that I've really enjoyed being part of. One that stands out is the hoarding graphics outside the restaurant and bar, Meat Liquor, at Trinity Leeds Shopping Centre.
The customer supplied us with the elements they wanted to include, but we had free rein over the majority of the design. I really enjoyed having creative freedom and the opportunity to incorporate my personal style and interests into the design, and I think the finished product looked great too!
Q: What new design trends are you interested in exploring in the future?
A: I think it's a really exciting time to be a designer in the signage industry. The continued growth of digital signage really opens the door for the user to interact with signage and access information specific to their needs.
Real-life examples of this include interactive wayfinding in shopping centres and touch screen point-of-sale in the retail sector. Not only are interactive graphics a fantastic way of sharing information, but they also provide the opportunity to create something really original and eye-catching.
Got an upcoming project and need some design inspiration? Get in touch to chat with our team or check out our case studies page for a bit of inspiration.