Discover three print marketing tactics that will help you reach more customers this year in this blog from print experts, FASTSIGNS® Leeds.
The most effective marketing speaks to customers directly and gets your message across simply and clearly. And in 2018, this is how many customers will increasingly expect to be communicated in print and online.
In a world where we are increasingly surrounded by information fighting for our attention, successful print marketing involves cutting through the noise and getting your message straight to the customer.
There are hundreds of different ways to produce effective print marketing, with new ideas emerging all of the time. In fact, here are three ways we think businesses will be visually communicating with their customers this year: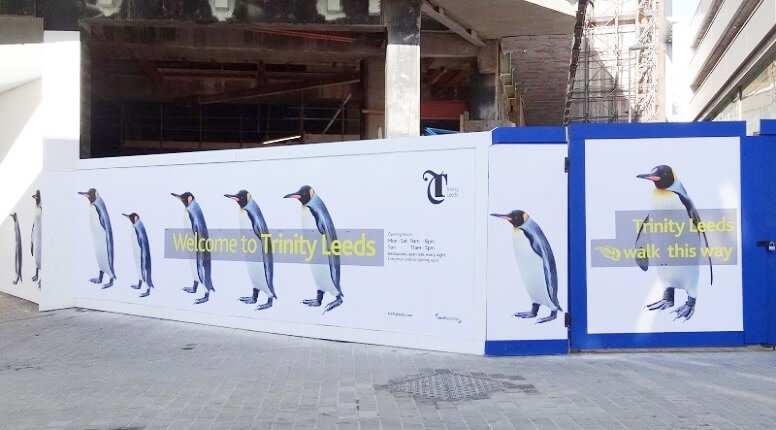 TREND #1 – Design: Keeping it simple
As we've just mentioned, we're now exposed to an unprecedented amount of information each day, be that in our emails, search engine results, adverts, flyers, billboards, and so on… And in response to this, many of us have learned to simply scan to find what we need.
Research suggests it takes the human brain just 13 milliseconds to process an image, which means we don't need to spend long looking at something to decide whether it's worth our time or not. In fact, the average user now spends less than 15 seconds reading a web page or article.
Designers and marketers are aware they don't have very long to grab people's attention and, as a result, many are shifting towards smart, clutter-free design. Brands are opting for well-thought-out, simple design concepts that are easy to digest and can be processed almost instantly.
Short, punchy sentences and sharp, clear-cut visuals create graphics that are both impactful and memorable. This style of design not only makes your printed materials more accessible but could increase the likelihood of your brand being easily recognized ahead of the competition.
TREND #2 – Strategy: Combining printed and digital communications
This second trend might be a tried-and-tested approach, but it's one that many businesses are finding new ways to implement.
As traditional printed campaigns, like direct mail, have become less common, there's now more of an opportunity for businesses to get noticed. Many of us enjoy the experience of receiving something physical and browsing through printed pages.
However, today's modern customers are often apprehensive to buy on first contact – shiny brochure or no shiny brochure. Nowadays, the first thing we do when we come across a new company is checking out their website and maybe take a look at their social media channels or online reviews.
That's why many businesses are now linking their printed campaigns with online channels for increased exposure. Using tools, such as social handles, hashtags, QR codes, and unique reference numbers, companies are using printed materials to reach out to prospects and encourage them to find out more about them online.
Referencing your website or social media accounts on printed adverts is the simplest place to start, but the possibilities are endless. For instance, you could launch an online competition via flyer using a unique reference code, or send out a direct mail with an exclusive offer redeemable online. It's all about finding out what works for your audience.
Not only is this a joined-up approach, but it's also a great way of grabbing the attention of new prospects you might not reach otherwise. It also helps to increase the awareness of your brand within the local area too.
TREND #3 – Technology: Going digital
You might have noticed advertising spaces like roadside billboards and bus stop panels becoming increasingly digitalized over the past few years, like this one:
As well as enabling countless creative ideas, digital display space gives you the option to share your own messages whenever you need, without having to spend time or money on print and installation. This convenience is something businesses of all sizes are likely to tap into.
Businesses who invest in digital signage find it much easier to keep their messaging up-to-date and share only the most relevant content with their audience, making life easier for both companies and their customers.
Everywhere from schools and shopping centres, to doctors' surgeries and restaurants can benefit from the flexibility offered by a digital display, where multiple messages can be displayed from one place.
Eye-catching, cost-effective, and simple to use, digital signs are set to revolutionize the way many organizations communicate with their employees, customers, and members of the public.
We hope these ideas have provided you with some food for thought! Get in touch and chat with our team about any of these ideas, or let us know your sign or graphics inquiry to see how we can help you.