There's so much choice when it comes to signs for shop fronts. Discover the most effective options in this blog from local sign-makers, FASTSIGNS® Leeds.
76% of customers would enter a shop they've never visited before based on its signs*
This translates to almost 8 in 10 customers that pass your shop by each day, which is certainly not a figure to be ignored!
Signs for shop fronts come in so many different shapes and sizes, it can be difficult to know what works. We've taken a look at the most popular styles to give you some ideas.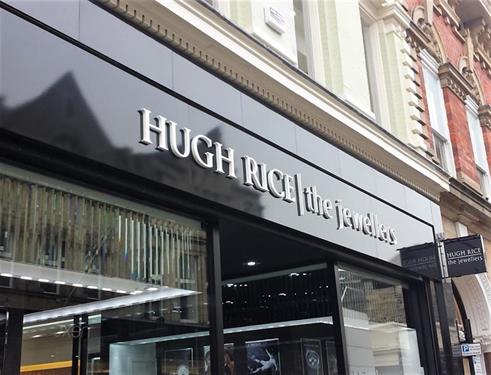 Fascia signs, lettering, and projection signs
Fascia signage is made up of boards or panels carrying messages that are attached directly to a shop front. The signs may protrude slightly from the building's exterior.
Fascia lettering emboldens letters, words, and icons by raising them from their background surface. The purpose of fascia signs and lettering is to add depth and structure to a sign, making it appear more noticeable and of a higher quality.
They are extremely common but effective and provide plenty of room for customisation. Play around with different fonts, colors, materials, and shapes in order to create a signage design that's truly representative of your branding, products, or services.
Team your fascia sign or lettering with a projection sign and your shop will be noticed from all angles. Projection signs stick out at a 90-degree angle from your shopfront, allowing your brand name or logo to be seen clearly by pedestrians.
Window displays and graphics
High street shoppers look at window displays for a sneak preview of what's inside, as well as tempting offers or deals. To attract positive attention, your window display should tick these three boxes:
Show clearly what products and services you offer
Look attractive, well put together, and of a good quality
Give people a compelling reason to venture inside
Window graphics are an easy way to dress your windows with eye-catching, full-colour designs that draw people in. Window vinyl is affordable and simple to install/ take down, making it ideal for sharing seasonal or changeable messages like sales and offers.
Another benefit of dressing your window using window graphics is that it looks neat and tidy, and provides a level of privacy from the outside world. If your shop or salon is small with a large glass front, window vinyl can stop your interior from feeling like a fish bowl.
Digital signage and light boxes
For high street shops, restaurants, bars, and other retail or leisure facilities with lots of messages to share, a digital display is a worthwhile investment. Digital signs allow you to display videos or a series of still, changing designs all from one place.
Because they are illuminated, digital screens attract attention at all times of the day. And when you want to be able to keep your messages up-to-date and interact with customers, a digital sign is a unique addition to your window or shop front display.
For those with a slightly smaller budget, light boxes make excellent features for shop windows or entrances. They provide uniform illumination behind a custom graphic design or text display, helping your message to be seen far and wide by those passing you by.
We hope this article has given you some ideas and information about the very best signs for shop fronts.
If you have any questions or would like some help making the best of your shop front, you can get in touch with our team. We love working with local businesses to create fantastic new signage that gets them noticed in their local area.