Take a look at these 5 creative, yet professional office décor ideas. At FASTSIGNS® Leeds, we regularly help clients achieve the right balance in their building fit-outs.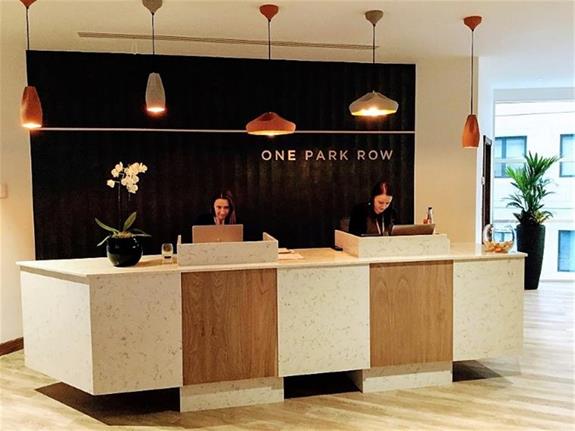 5 creative yet professional office décor ideas
It's well known that a smart and professional office building creates a good first impression. But modern workplace design isn't just about impressing visitors, it has also been linked to employee productivity and wellbeing too. Back in 2017, a survey of UK office workers found:
16% thought their working environment was stressful
12% saw a better working environment as an incentive
The survey suggests office workers recognise the value of an engaging and fully-operational working environment. So, it's not something employers should choose to ignore.
The very basics of a suitable office are safe, well-maintained amenities and light and temperature control. The design may include both communal and private workstations.
Many businesses and property managers choose to go one step further, designing offices that are inspiring, as well as comfortable, places to work. This could include anything from murals and colorful seating, right through to creating full building brand identities.
Take a look at these 5 creative, yet professional office décor ideas to see what we mean...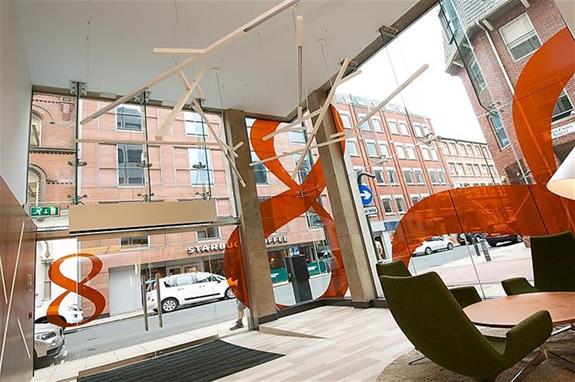 Idea #1: Supersized window and floor vinyl
What better way to make an impact on visitors than with unique floor-to-ceiling vinyl?
That was Oblong's thinking behind this office reception. These colorful and quirky graphics span the floors, windows, and walls, making a bold statement for anyone entering or passing by the building. This office isn't going to be confused with any other on the street, that's for sure!
Vinyl graphics, such as these, are hardwearing, affordable, and can be printed in any colour or design imaginable. They are also easily removed, making them ideal for leased buildings too.
Idea #2: Elegant reception graphics and lettering
Most visitors will head to your reception desk first. Having your building or brand name in smart lettering above the desk tells people they're in the right place and helps set the tone for the rest of their visit.
Take a look at both these reception graphics. The sleek, high-quality finish on the lettering immediately creates an impact and reflects back positively on the respective businesses.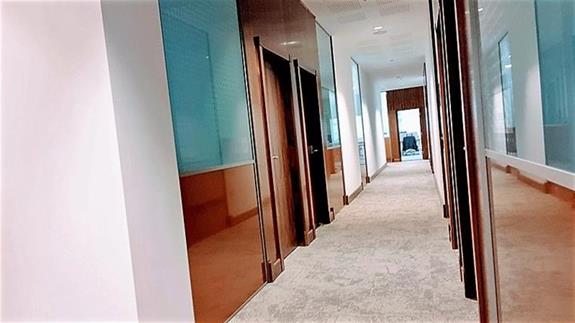 Idea #3: Private and professional corridor branding
Keeping up appearances goes way beyond the initial entrance and the same level of professionalism should continue throughout the whole building. Window vinyl is a great way of achieving this plus, they have the added benefit of creating privacy for glass-sided rooms.
You could opt for a generic pattern or frosted paneling or you could choose something a little more unique. This client chose a combination of copper and frosted glass manifestations to reference the copper lettering and colour scheme in the reception.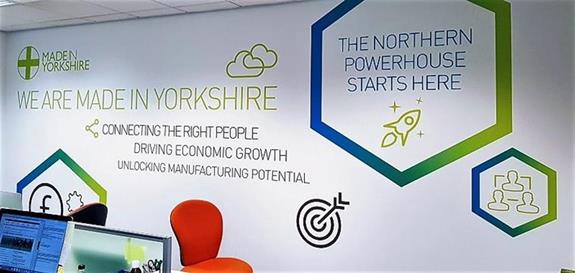 Idea #4: Creative wall graphics and meeting spaces
Communal meeting and recreation areas are one of the most important features of modern office space, with open plans and collaborative working becoming the norm. Designing shared areas that are bright, comfortable, and inspiring, encourages people to make the most of them.
Wall graphics are one of the easiest ways of brightening up shared spaces and the beauty of printed wall vinyl is that you can choose any design you like. It might be a mural, map or inspirational message, or it could simply be your brand name or strapline.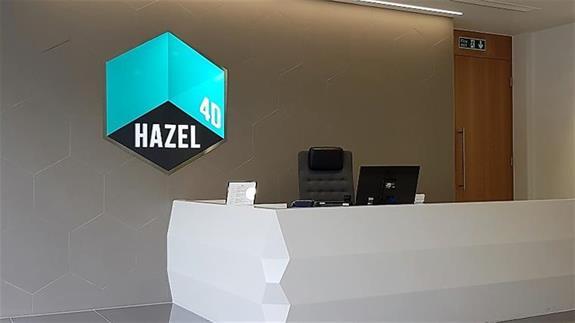 Idea #5: Larger-than-life logos
People like to feel a part of something and branding that highlights your logo is a reminder that they are. Displaying your logo in an eye-catching or unusual way also shares a little about your brand personality. You could even include a supersized or illuminated logo, like the one below. It delivers a noticeable impact and means nobody is going to wind up in the wrong place…
Do you have an office building to brand? Or maybe you've just got a blank wall that needs brightening up or redesigned to inspire your workforce? Tell us your idea and we'll help you transform your space.