Download this free look book packed with images and examples of eye-catching and educational signs and graphics for schools from,FASTSIGNS® Leeds.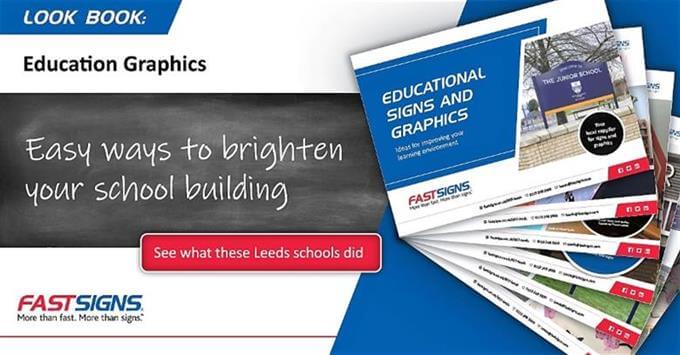 Engaging signs and graphics for schools – Take a look at these ideas
It's easier than you think to transform your school, nursery or college building with signs and graphics for schools.
Printed graphics are fast and affordable and can be installed on almost all blank wall, window, door and floor space. It's possible to create freestanding displays too.
Does your school or education centre have its own brand identity?
Many of the organisations we work with choose to create a brand identity for their school to showcase their values and help visually tie their building and grounds together. There are education branding experts who work with schools to achieve this.
Find out about branding, signs and graphics for schools in this look book, which is free to download. It's packed with images and case studies showing you exactly how Leeds schools have enhanced their environments.
Get your free copy here: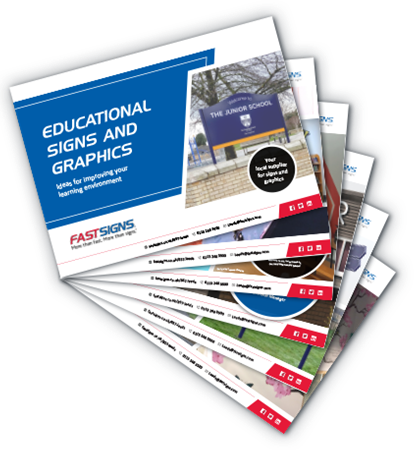 The look book includes:
Ideas for making your building more appealing
Examples of interactive and educational wall displays
How branding can give your school an identity
The benefits of thorough wayfinding signs
The difference graphics can make
The process to installing new signs and graphics often starts with a site survey. During a site survey a signage expert will visit to assess your space, take measurements and discuss your options. From this point, we'll work with you to secure designs suited to your organisation and its students and staff.
We love working with local schools and nurseries to install unique signs and graphics that set their building apart. If you're based in Leeds or the surrounding areas, get in touch with our team to chat about what can be achieved with your budget.