Download this FREE Look Book packed with images and examples of eye-catching signs and graphics for businesses from FASTSIGNS® Leeds.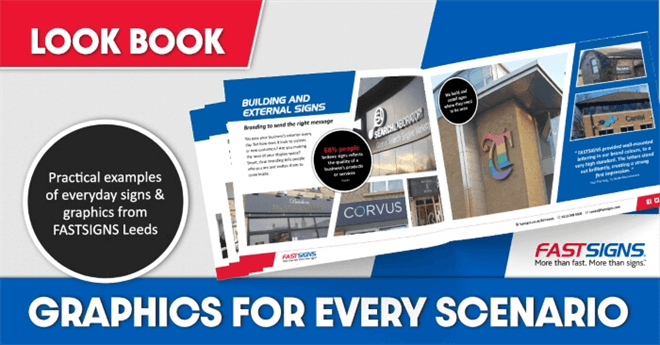 Signs and graphics for businesses – Sharing messages in every scenario
It's easier than you think to communicate with customers and employees with signs and graphics for businesses.
Printed signs and graphics are affordable and fast to create. Fit them to almost any blank wall, window, door, and floor space for instant communication of messages. Create freestanding displays to share news and information where it needs to be seen.
Don't miss an opportunity to get your messages heard
In a busy world, we're constantly passing information without a second glance. Make your messages seen and remembered by placing them in the right places and using bold designs. Signs and graphics for businesses are created with the end audience in mind, be that customers, staff, or the local area.
See examples and ideas of signs and graphics for businesses in this look book, which is free to download. It's packed with images and case studies showing you exactly how Leeds businesses have made an impression.
Open the book to view it and there's a link to download in the top left corner: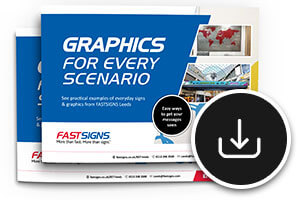 The Look Book includes:
Check mark Ideas for getting your business noticed
Check mark Examples of products for every scenario
Check mark How to communicate with people using signs
Check mark Real experiences of Leeds customers
Check mark Tips for getting your signs spot on
The process to getting new signs and graphics often starts with a site survey. During a site survey a signage expert will visit to assess your space, take measurements and discuss your options. We work with you to create designs suited to your business and brand.
If you're based in Leeds or the surrounding areas, get in touch with our team to chat about what can be achieved with your budget.