In this blog, we chat to FASTSIGNS® Leeds Director, Andy, to hear about the past year in signs and graphics, and what 2022 has in store.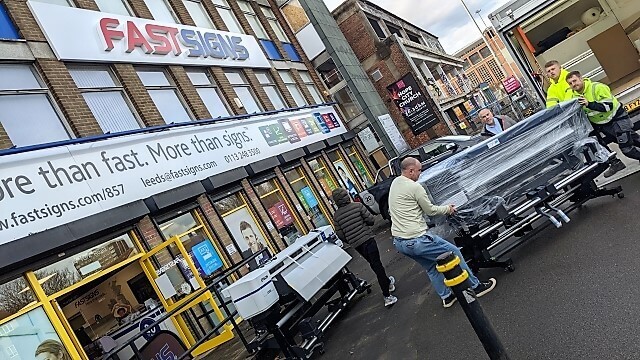 The past year has seen plenty of change as we've come out of lockdown and reopened. We can't be sure what the next year or few months has in store, but we will continue to serve our customers. Our team is proud to help the businesses of Leeds keep people informed and engaged with signs and graphics.
During these uncertain times, the team at FASTSIGNS® Leeds has been kept busy. Coming to the end of the year, we've taken a moment to reflect on 2021 and look at the year ahead. Here, Andy Simpson, Director at FASTSIGNS® Leeds tells us about his highlights and predictions for next year and beyond.
Hi Andy. What have been your highlights this year?
It has been good to finally see our business, and lots of other businesses across Leeds, bouncing back from the challenges of 2020. While we're not out of the woods yet, there has been some respite this year and it's been fantastic to see businesses busy again and people out enjoying themselves.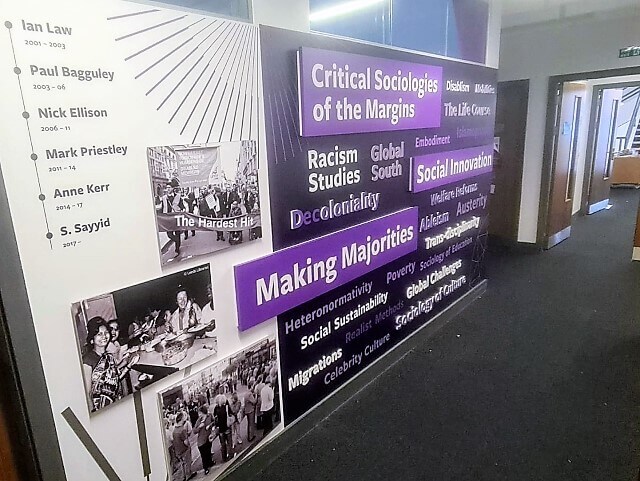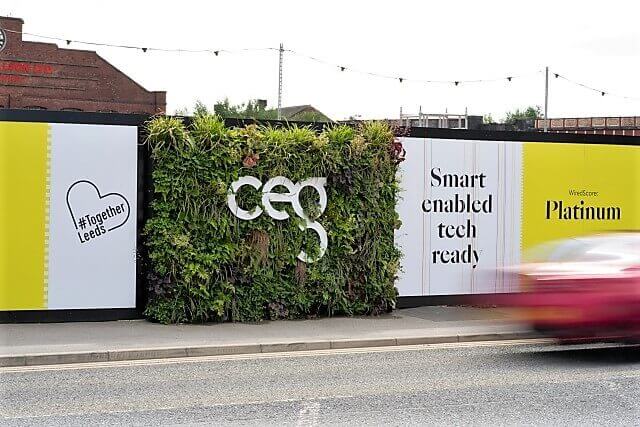 Looking back on some of the projects we've completed this year, the University of Leeds wall graphics stand out. We have done a lot of work for them over the years and it's always enjoyable to turn their ideas into a reality. The hoarding graphics for CEG for the new Holbeck developments were another great one.
The year started off with lots of social distancing signs and graphics. How did you help the businesses of Leeds with safe reopening?
We had spent time in 2020 figuring out how we could provide fast and effective products to help our customers make their premises safe and set up for social distancing. We had the products ready to go and offered businesses site surveys and deals to make sure they were covering every base.
When it was time for retail and hospitality to reopen, we helped them advertise their reopening dates and make safety measures clear for customers. It was nice to know that we were, in a small way, helping businesses to keep their staff and customers safer.
Check out the new-look @TheBroadwayBrad - @ALLGOODagency smashing the branding as ever and always a great team to work with.

Ready for the time they can welcome customers back when it's safe. ❤️ pic.twitter.com/50QUrpHjL7
— FASTSIGNS® Leeds (@FASTSIGNSLeeds) January 26, 2021
What has been the biggest challenge this year?
Managing material prices and availability has been difficult. The supply chain issues that have caused disruption across every industry in the UK have affected us. We keep many materials in stock at our printing facility, however, we can't possibly have every material on site.
The variety of materials we work with has enabled us to suggest alternatives where needed and avoid delaying customer orders. Our customers rely on our fast turnaround times, and we have worked hard to maintain this approach despite outside challenges around material availability.
What would you say the FASTSIGNS® Leeds team has done particularly well at this year?
We have had a couple of busy months with large projects and the team have come together to get the work completed on time for the customers. After long periods of working from home in 2020, it has been nice to have more of the team back working together day to day.
We also had a sales team meeting as we learned about environmentally friendly products, something that as a company, we are focused on delivering over the next few months! ♻️ pic.twitter.com/YpCTbNQd34
— FASTSIGNS® Leeds (@FASTSIGNSLeeds) November 29, 2021
What does 2022 have in store in terms of products?
The main thing we will be focusing on is expanding the range of environmentally friendly products we can provide customers with. Businesses and individuals have a responsibility to reduce waste and use less environmentally damaging products wherever possible.
Our team has been exploring the options we can bring to customers, and we hope to share more details of some of the exciting products we have ready to launch next year!
Out with the old...

Christmas has come early for the @FASTSIGNSLeeds lads as the new printer arrives! 🎁

Boys with their toys, eh? 😂 pic.twitter.com/idCsaUnobX
— FASTSIGNS® Leeds (@FASTSIGNSLeeds) December 1, 2021
Is the team planning to celebrate Christmas together?
We are going to Trinity Kitchen to play shuffleboard, eat and drink! It's nice to be able to celebrate as a team and to host the party at Trinity Leeds – one of our largest customers.
The Christmas elves have arrived! 😀 pic.twitter.com/DIMdOSww7Q
— FASTSIGNS® Leeds (@FASTSIGNSLeeds) December 6, 2021
Finally, what's the festive opening period?
We close at lunchtime on 24th December and reopen on 4th January. We will be taking orders right up until this time and giving clear timeframes as to when signs and graphics will be ready.
In the meantime, I leave my mobile number on our answering machine in case of any emergencies.
Want to hear more from the FASTSIGNS® Leeds team? Follow us on Facebook, Twitter and LinkedIn for regular updates from the team.