Leeds businesses are getting noticed on the road during deliveries with van graphics. See how van graphics have helped some businesses adapt to lockdown.
The past year has seen Leeds businesses go through huge amounts of stress and upheaval. Adapting to rule changes and numerous lockdowns is an ongoing struggle. But a great many businesses have found ways to operate safely until the time comes to reopen again.
Click and collect and home delivery services have been critical to the survival of many local businesses. Non-essential shops, cafes, restaurants, and bars have been able to create an income, however small, to sustain them and stay connected to their customers.
Ultimately, people want the businesses and high streets of Leeds bounce back! We can help by buying from local businesses wherever possible. Making people aware of delivery and remote ordering services is something we've spent a lot of time on in the past year. Here are some of the ways businesses have adapted to lockdown to stay active.
Well, well, well! This is one of our favourite vans we've done (and one of our favourite small businesses in #Leeds too!)
Check out @no1leedsbutcher's new whip! 🍖🥓🥩 pic.twitter.com/mgtYcuYgur
— FASTSIGNS® Leeds (@FASTSIGNSLeeds) December 15, 2020
Van graphics to shout about your services
Van graphics are a simple way for businesses to make their service changes known. For businesses who previously operated solely through shops and stores, customers might not know you're selling produce. Van graphics get your messages seen by the local area.
What better way to advertise your services than on the side of your van, during deliveries or as you go about your day! It's free advertising to your local area and the people within it. Whether you sell fresh food or provide a service like dog grooming or personal training, van graphics are an easy way to be seen by potential customers everywhere you go.
Receiving feedback like this from @FITBUSTERSPT makes our day! Thanks, Richard! pic.twitter.com/lTm0aWJQmO
— FASTSIGNS® Leeds (@FASTSIGNSLeeds) February 23, 2021
Home deliveries are keeping people safe
There are still a huge number of people shielding and staying home as much as possible. Shops that can remain open have found themselves carrying out more deliveries. Grocers, butchers, bakeries and other food and drink suppliers have responded to demand by starting or upping deliveries.
Having branding and contact information on your delivery van advertises your services and shows people when you've arrived at a location. Parked up on a new street, you are bound to reach a new set of customers who didn't know you delivered to their area.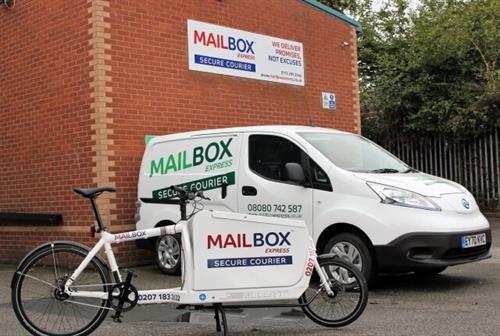 Did someone say fish and chip Friday? 😉 https://t.co/XR6UvfuxKo pic.twitter.com/GOmvMWVS40
— FASTSIGNS® Leeds (@FASTSIGNSLeeds) January 29, 2021
Spreading joy with at home experiences
Unable to visit restaurants, bars, cafes, or any other indoor places, many of us are looking for ways to make our down time more enjoyable. Many restaurants have been running at home meal boxes and bars have been delivering everything from crates of beer to pints and cocktails.
Making the delivery experience special spreads a bit of joy for the customer. It's a great way for businesses to keep customers engaged and make some much-needed revenue. However the goods are delivered, happy customers will hopefully tell their friends and family of their experience.
From branded delivery bikes, cars, boxes, and scooters, to van graphics, there are loads of creative ways to tell the local area you're open for business. Want to share your branding? Tell us your idea – we'll help you get it out there!