Stay one step ahead of lockdown easing and get prepared with COVID reopening signage for your business. See what's available.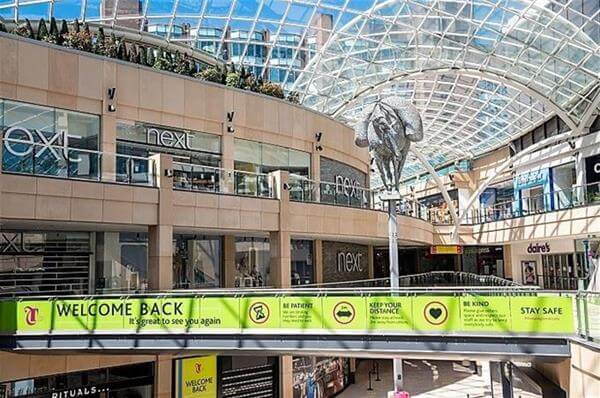 Get prepared with COVID reopening signage
We have a roadmap out of lockdown, with businesses given dates for reopening. It remains to be seen whether these dates will be met or delayed, but businesses can work towards them in the meantime. The key dates for businesses in England are:
29th March:
12th April:
Non-essential retail
Hairdressers and salons
Outdoor hospitality, including alcohol takeaways and beer gardens
Indoor leisure such as swimming pools and gyms
UK self-catering holidays
17th May
Delighted to have been able to help Jasons of Kippax to reopen safely.
We provided floor standing screens, counter screens, sink dividers, banner stand and wall signage.
Not to mention the ceiling blinds we applied their logo to! 😀 pic.twitter.com/mA2gnyfnA3
— FASTSIGNS® Leeds (@FASTSIGNSLeeds) July 9, 2020
Get prepared with COVID reopening signage
We know from experience that these dates may shift and change. The best option is to be prepared and stay optimistic. Getting ready for reopening means making sure your business is safe and set up to welcome employees and customers back.
Things you might consider:
Opening signs and adverts
Social distancing signs
Clear safety measures
Sanitising stations
Offers and deals
Send a warm welcome
Everyone is looking forward to the prospect of getting out and about again this spring. Why not send a warm welcome to new and returning customers?
The various lockdowns have given us a chance to appreciate the British highstreet and all its wonderful businesses. Signs are one small way to engage your local area and say hello!
Check out the new-look @TheBroadwayBrad - @ALLGOODagency smashing the branding as ever and always a great team to work with.
Ready for the time they can welcome customers back when it's safe. ❤️ pic.twitter.com/50QUrpHjL7
— FASTSIGNS® Leeds (@FASTSIGNSLeeds) January 26, 2021
Set up for safety
Get ready with COVID reopening signage and set your business up for safe social distancing. Use clear graphics to show people the safe distances to keep and remind them to wear masks with signs and notices. You should provide places for customers to sanitise their hands too.
We've done lots of #signage like this for businesses returning to work. It's become an important part of people feeling safe in the office and we're so glad we could help.
Receiving feedback like this from @Ascensor makes it even better! Thank you, guys… https://t.co/4ThmPucLLF pic.twitter.com/b9iYTIs9Pl
— FASTSIGNS® Leeds (@FASTSIGNSLeeds) January 19, 2021
Advertise your offers
Do you have a sign-up deal? Or an offer to share? Perhaps you have new opening times?
Tell people about your latest news and deals with graphics and branding. Make it easy for customers, new and returning, to engage with your business. As people venture back out into their local area, make sure your business is top of their list to visit.
There are loads of fun, creative ways to tell the local area you're open for business. And plenty of ways to stay safe with COVID reopening signage. Want to get yours now? Tell us your idea – we'll help you set your signs sorted!