See how biophilic design principles enhance offices and workspaces in this blog from sign and graphics specialists, FASTSIGNS® Leeds.
Biophilic design is a concept used by architects and designers to increase the connection to nature within an environment or building. Used at both building and city-scale, biophilic design has health, environmental, and economic benefits for occupants and urban environments.
Being closer to nature helps us feel calmer and more fulfilled. Natural landscapes are thought to lower blood pressure and heart rate, while improving concentration and mental engagement. Everyone knows how unpleasant a windowless, airless office can feel. Biophilic design works on the basis that a connection to nature counters the strains of spending time in man-made spaces.
Feeling calmer and more attentive at work has clear benefits for employee wellbeing and productivity. Making workplaces more comfortable and inviting encourages people to work from the office, rather than remotely.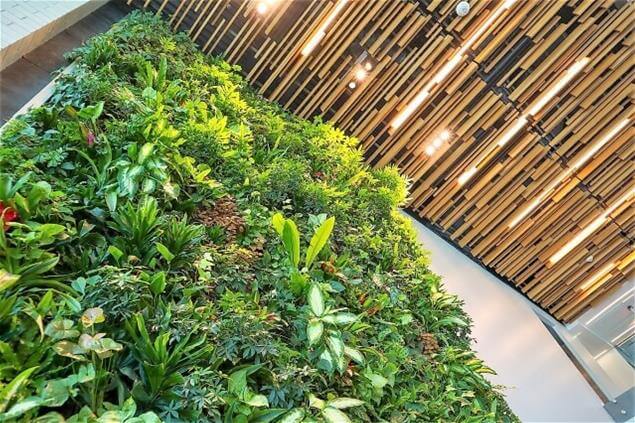 Useful principles of biophilic design for workplaces:
Visual connection to nature – connect to natural spaces and greenery, including outside views, green space, and indoor planters for reduced stress.
Other sensory connections – use sensations like the sound of running water, the feel of natural textures and fibres, and the smell of plants and fresh air to enhance cognitive performance.
Dynamic lighting – use as much natural light as possible and consider lighting that mimics the natural rhythms of the day (circadian lighting) for improved concentration and sleep patterns.
Airflow and purity – provide the opportunity for natural airflow and consider air humidity levels and purification to reduce stuffy environments that cause discomfort and tiredness.
Different spatial hierarchies – create a sense of movement using shape and height within interiors, and avoid regimented, flat environments that feel unnatural and cold.
Examples of Biophilic Buildings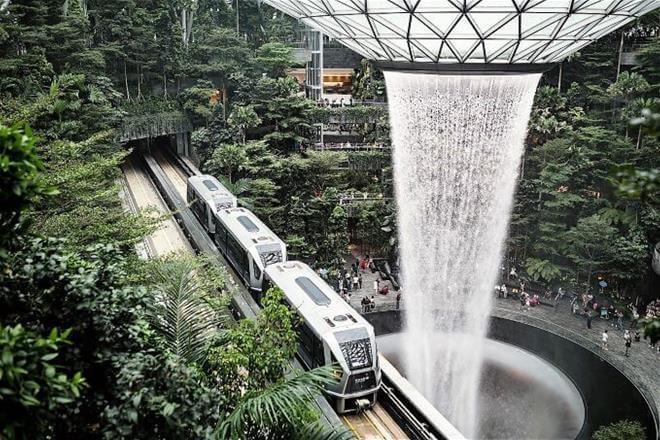 The Jewel, Singapore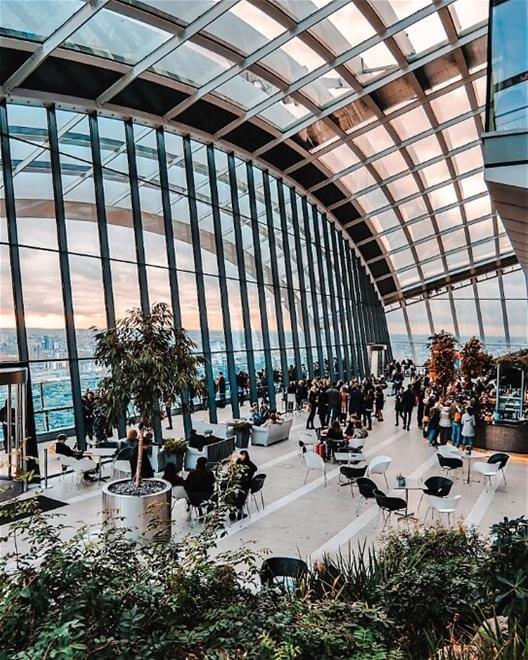 Sky Garden, London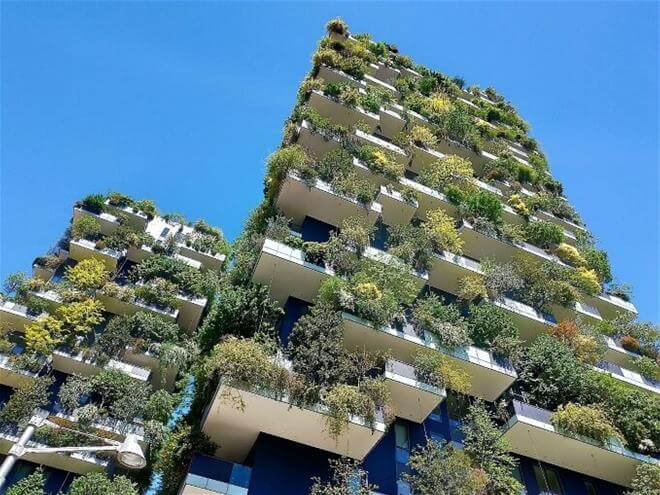 Bosco Verticale, Milan
Easy biophilic design for workplaces
Not every budget, building, or business is suited to a complete biophilic design overhaul. But there are easy ways to touch on biophilic design principles and bring them into existing workplaces. We work with Yugen Design to bring nature into workplaces.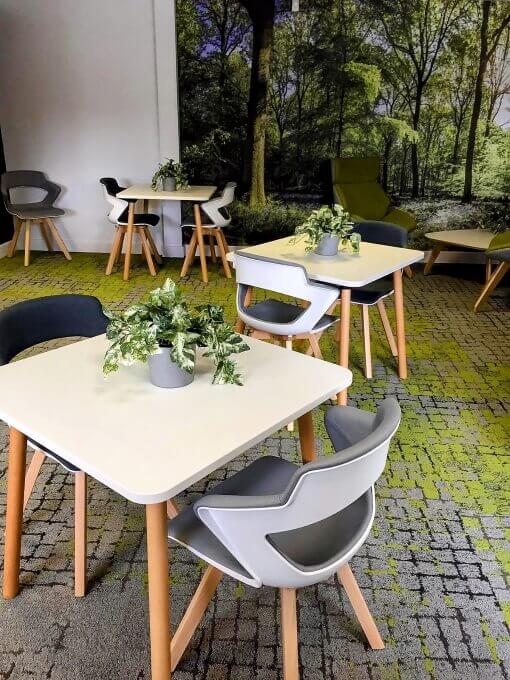 "The aim is to create naturally uplifting workspaces that reflect and embrace the beauty of the natural world."
Whatever office space you have, it's possible to improve the design to make it more comfortable and engaging for employees. See the ideas below for 3 easy ways you can incorporate biophilic design ideas into your workplace for a calmer environment.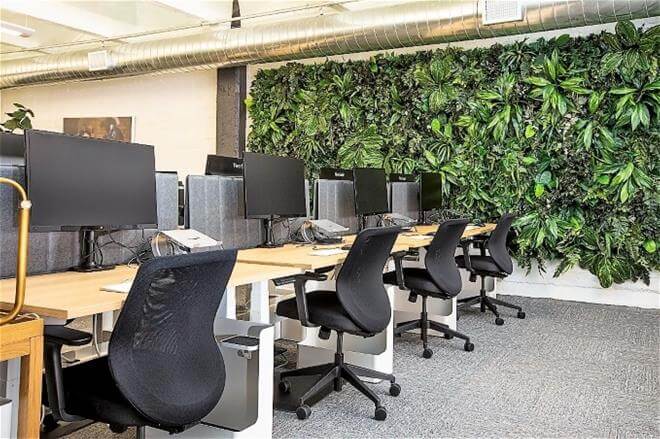 Living walls
You might have seen these on the side of buildings. Living walls literally bring a wall to life, filling it with plants and natural material. Many plants thrive growing within the confined spaces of rock faces and larger trees. This makes them suited to growing on an upright wall.
With the right irrigation and care, living walls provide a natural and calming backdrop. Plants have air purifying properties, helping air feel fresher and less stuffy. Living walls are useful for absorbing sound, dehumidifying rooms, and setting a relaxed and welcoming atmosphere.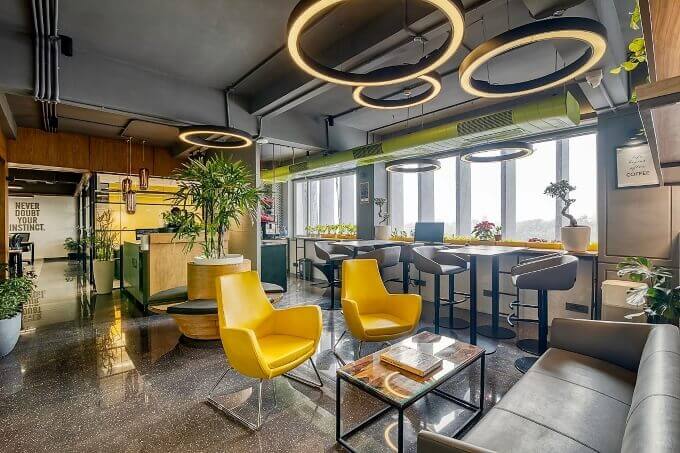 Planters
Large planters filled with foliage of different heights are the perfect way to separate space within an office. Most offices are open plan nowadays, but there's still a need to create different areas within a larger space, such as break out, meeting and social spaces.
Using plants and shrubs, rather than walls, is the softer way to break up different areas. The presence of plants and greenery is pleasant to look at and creates better acoustics than stud walls. Plants provide a calming presence in the space that is more conducive to concentration.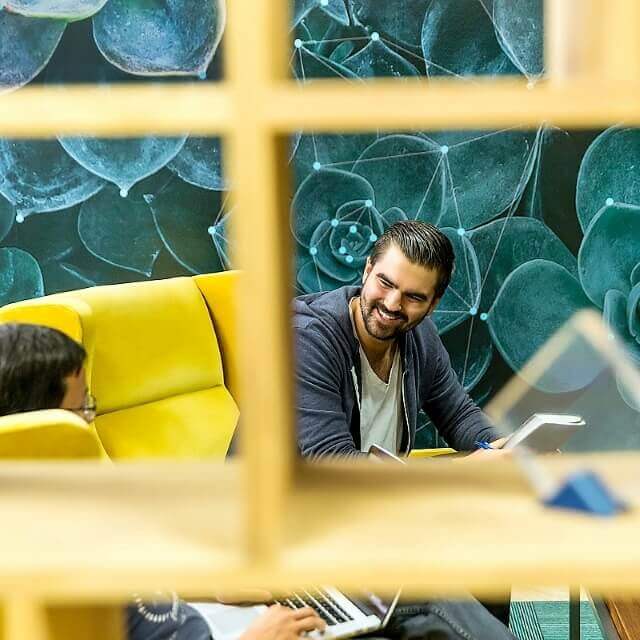 Murals
When it's not an option to fill your office with greenery, even an impression of the natural world can help lift a space. Brightening an empty meeting room, corridor or communal area with a wall mural featuring a natural scene is a secondary option to bringing real foliage into a space.
Either painted or printed, wall murals add colour, depth, and interest into a room. We forget the difference décor makes to an office, and what better theme to use than the natural world.
We hope we've given you some great ideas and explained the thinking around biophilic design for workplaces. If you have an office space you'd like to decorate, get in touch with our team.