Signs in high places can get your business seen by the people you want, 24 hours a day. Find out why an elevated sign from FASTSIGNS® Leeds could be perfect for your business.
You want your business to be seen, and eye-catching signage is a great way to grab the attention of anyone who passes by. External signs are one of the first things to consider when it comes to marketing your business, as they're often the first time a potential customer may see you. That means it's important to get your first impression spot on.
One way to really elevate your business (quite literally) is with high rise building signage that enhances your business's visibility. Here's how high up signs can help benefit businesses.
Why an elevated sign could be right for you
Ultimately, signs in high places help your business get seen more. There are a whole host of fantastic benefits, including:
They're visible at all times of the day. That means you can reap the benefits of continuous, cost-effective marketing. High up, outdoor signs are effectively free, 24/7 marketing, letting people know where your business is and what you've got to say.
They help you make a strong first impression. An attention-grabbing sign looks impressive and tells your customers immediately that you mean business.
They provide a competitive advantage. If other, similar businesses in your area aren't taking advantage of the benefits of high up signs, you can make sure you'll be seen first.
Increased business. The main reason for any business signs is to increase sales of your products or services. An elevated sign can help you do just that.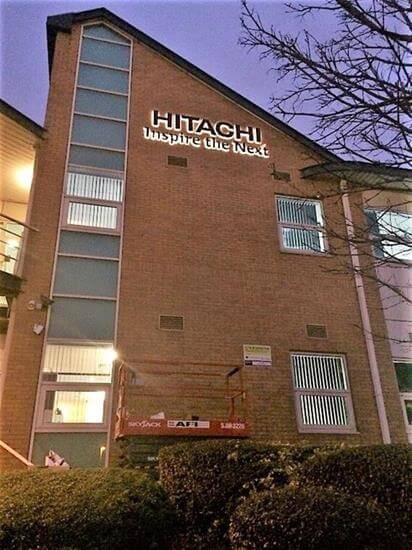 There are a few different types of elevated signs you could take advantage of – all of which offer a fantastic solution for those wanting their businesses to be seen by as many people as possible.
Banners
High-flying banners and flags offer a perfect, temporary way to get your message seen and attract attention from a distance. They're a cost-effective marketing tool; easy to print, relatively durable and inexpensive.
Illuminated signs
Make sure your message is seen day and night with an illuminated or electrical sign. Your illuminated outdoor signs can be lit in a variety of ways to make sure that your customers are always seeing you. Digital screens are another fantastic option for delivering multiple messages.
Monolith & totem signs
Ensuring maximum impact, monolith and totem signs are popular choices for retail parks, industrial parks, offices, schools, hospitals and leisure complexes. They're a great way of identifying businesses or wayfinding.
What we've done
At FASTSIGNS® Leeds, we build and install signs that are made to last, and that includes signs in high places for the businesses of Leeds and West Yorkshire. Here are a couple of our favourite local high rise building signage installations that you might just recognise.
The Alhambra
Bradford's Alhambra Theatre is one of the North's premier venues, playing host to some of the best entertainment around – from yearly pantomimes and ballet performances to touring West End musicals and plays.
We are the contractors for the Alhambra Theatre's seasonal promotional flat panel signs. The signs we install ensure that passers-by immediately know what's playing at the theatre, enticing new potential visitors to the Alhambra every day.
We were back at The Alhambra Theatre to install this for @BradfordTheatre ahead of The @TheLionKing starting in March.
Doesn't this one look amazing in the winter sun this morning!?🦁 pic.twitter.com/ZkkuGS3MuE
— FASTSIGNS® Leeds (@FASTSIGNSLeeds) January 17, 2022

We've just replaced this red banner on top of The Alhambra with this new #SchoolofRock banner - exactly a year to the day since we installed the red one!🤘
Looking pretty smart, @BradfordTheatre! pic.twitter.com/oMOhUEj650
— FASTSIGNS® Leeds (@FASTSIGNSLeeds) July 22, 2021
Trinity Leeds is the city's leading shopping and leisure centre, found in the heart of the city. We've been working with them since they opened in 2013, ensuring that their signage is on point, tells their customers what they need to know and sticks in peoples' minds.
From colourful window graphics to advertise the opening of Trinity Kitchen to high-up vinyl wraps to celebrate Pride, Trinity trusts us to provide and safely install the very best signs in the area.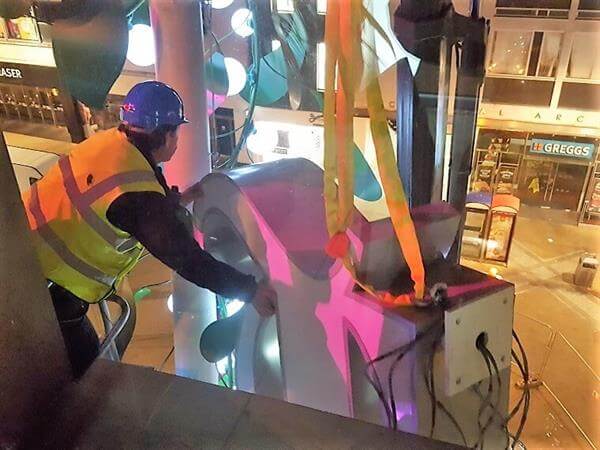 As you may have seen, last night we installed these #Leedspride graphics and vinyls all around @TrinityLeeds and we have to say it looks absolutely fabulous! We are so happy to be able to help. 🌈
Happy Pride, #Leeds! pic.twitter.com/BIAEtiAHBi
— FASTSIGNS® Leeds (@FASTSIGNSLeeds) August 1, 2019
We hope you've enjoyed learning about the many benefits of high rise building signage. If you have any questions or want to find out how we can help you get your business seen with high up signs, get in touch.