Using vehicle graphics to add your business's branding to your van is a high-impact and effective way to ensure your message is seen. Your van is on the road every day, so there's no better way to advertise your services to potential customers than with eye-catching vehicle graphics that will be seen both when you're driving and parked up.
Transforming your van with graphics can be a powerful advertising tool for your business. Here's why we think van graphics are the way forward.
What are vehicle graphics?
There are several ways you can personalise your van, but the two main methods are a full van wrap or van graphics. A full van wrap covers every part of the van and is a big and often expensive job.
Van graphics are a great alternative. Also referred to as van stickers, contour cut graphics, or van decals, they cover a smaller area while still making an impact.
We've found that many people seeking van wraps often find that van graphics are actually better suited to their needs.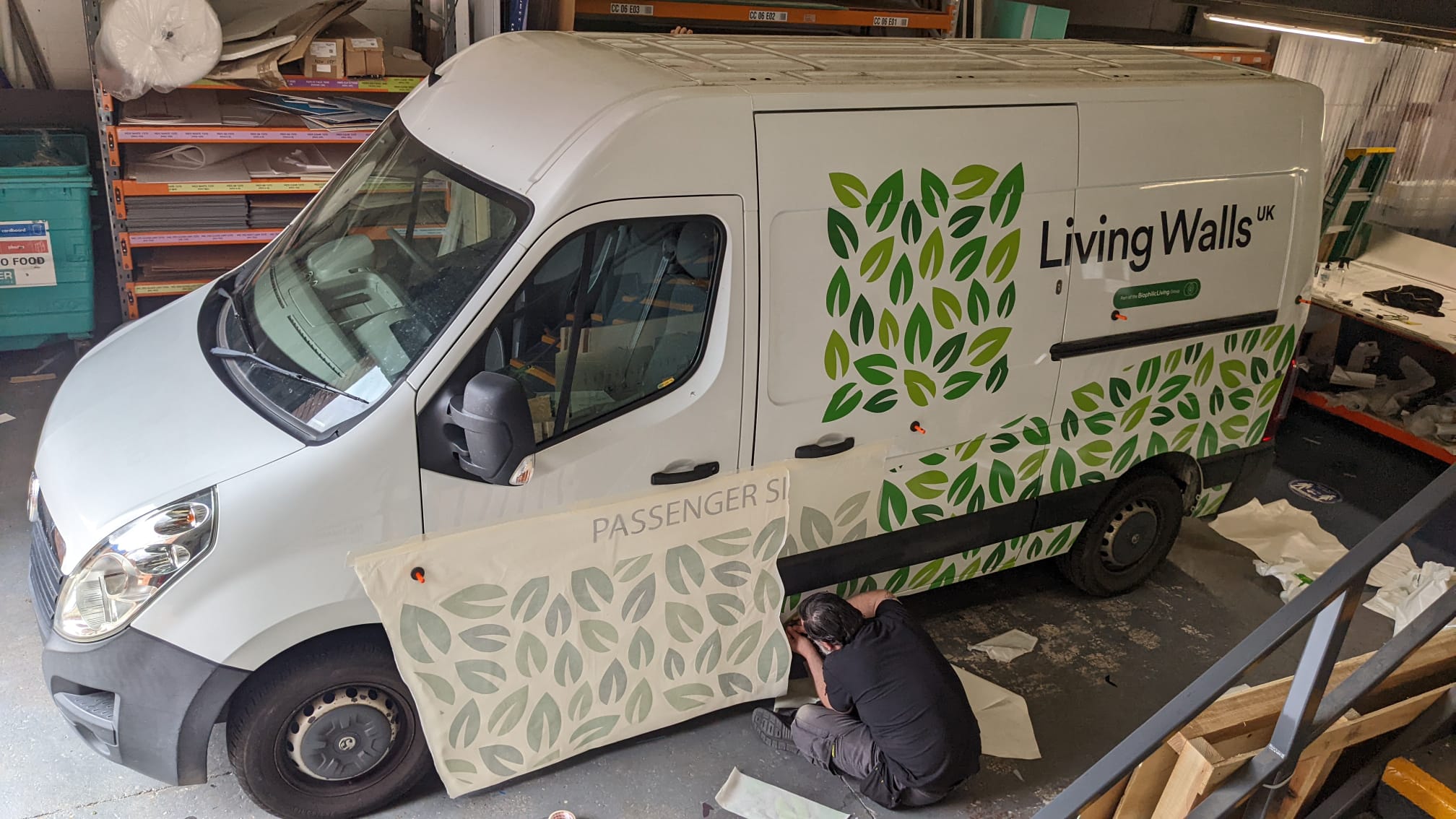 Van wraps vs van stickers
Are you trying to decide if a full van wrap or van stickers are right for you? There are pros and cons to each, but ultimately, we think van stickers are the way to go. Here's why:
A key factor is how much it costs to wrap a van, which can be very expensive. If you don't have a substantial budget, it's best to steer clear of full vehicle wraps – the phrase "you get what you pay for" rings especially true here. Wraps should be installed by a dedicated car wrap professional who can ensure a perfect finish, and a high-quality vinyl product must be used. Anything less than this will result in a low-quality end result.
 
Partial vehicle graphics are much more cost-effective than a full wrap. They allow you to cover a smaller proportion of the vehicle, transforming areas like the rear window or the side of the van with logos, images and contact information. This ensures your message is displayed effectively, without the price tag of a full van wrap. Take a look at how we helped Leeds businesses get noticed on the road in 2021.
 
Many people wonder how long van wraps last. The reality is that there are a number of factors that may affect the lifespan of a wrap, including where the vehicle is stored and the weather conditions. Extreme weather, exposure to sun and excessive heat can cause the quality of the wrap to deteriorate and the colour to fade. As the wrap endures day-to-day wear and tear and scratches, the original paint can begin to show through, making the van look old and tired. 
Van stickers cover a much smaller area, making them less susceptible to obvious damage. They're also much cheaper to replace if exposed to harsh weather conditions.
 
If a full body wrap would completely change the colour of your vehicle, you'd need to consider the legalities. This includes informing your insurance company of the colour change and notifying the DVLA so their records can be updated accordingly, which can be a long process.
 
A full wrap isn't a viable option for a vehicle that isn't always used for business. In this instance, temporary magnetic van graphics are the perfect solution for occasional branding that can be removed when desired.
 
If you opt for a vehicle graphics instead of a full wrap, your vehicle will spend less time off the road.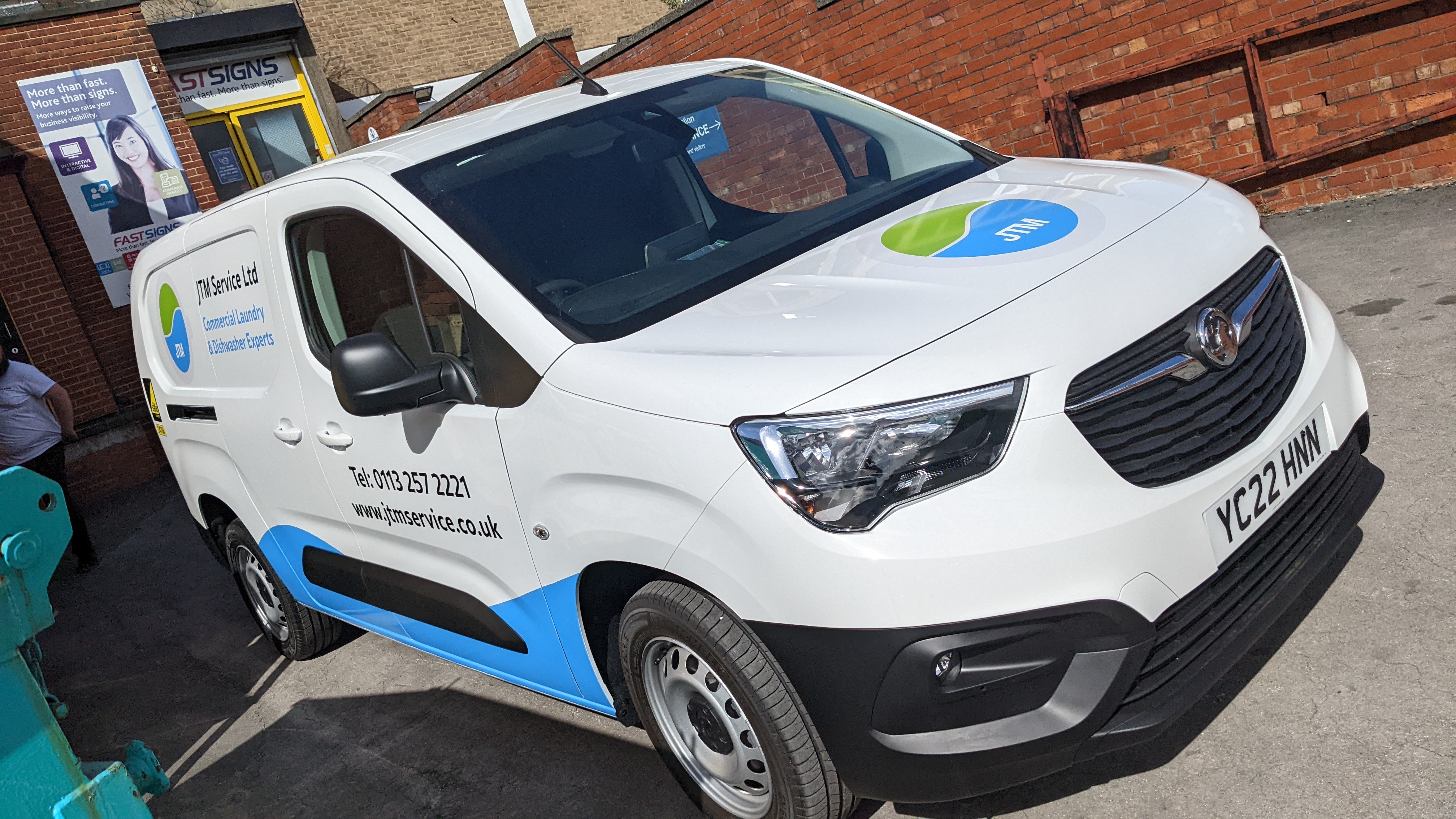 Van sticker ideas
Although they cover a smaller space than a full van wrap, van stickers still offer you the chance to unleash your creativity and can be just as visually effective. You may already have a design in mind that's been produced by an in-house designer or a design agency. In this case, we would simply ensure the design fits and make any recommended amendments before readying the design for print.
If you don't have a design selected, we can create bespoke artwork for you in-house, to your exact specifications. Our graphic design capabilities mean we can transform your ideas into reality. We'll chat to you about everything you require before producing mock-ups. Once you're happy, we'll get to work printing and installing your design.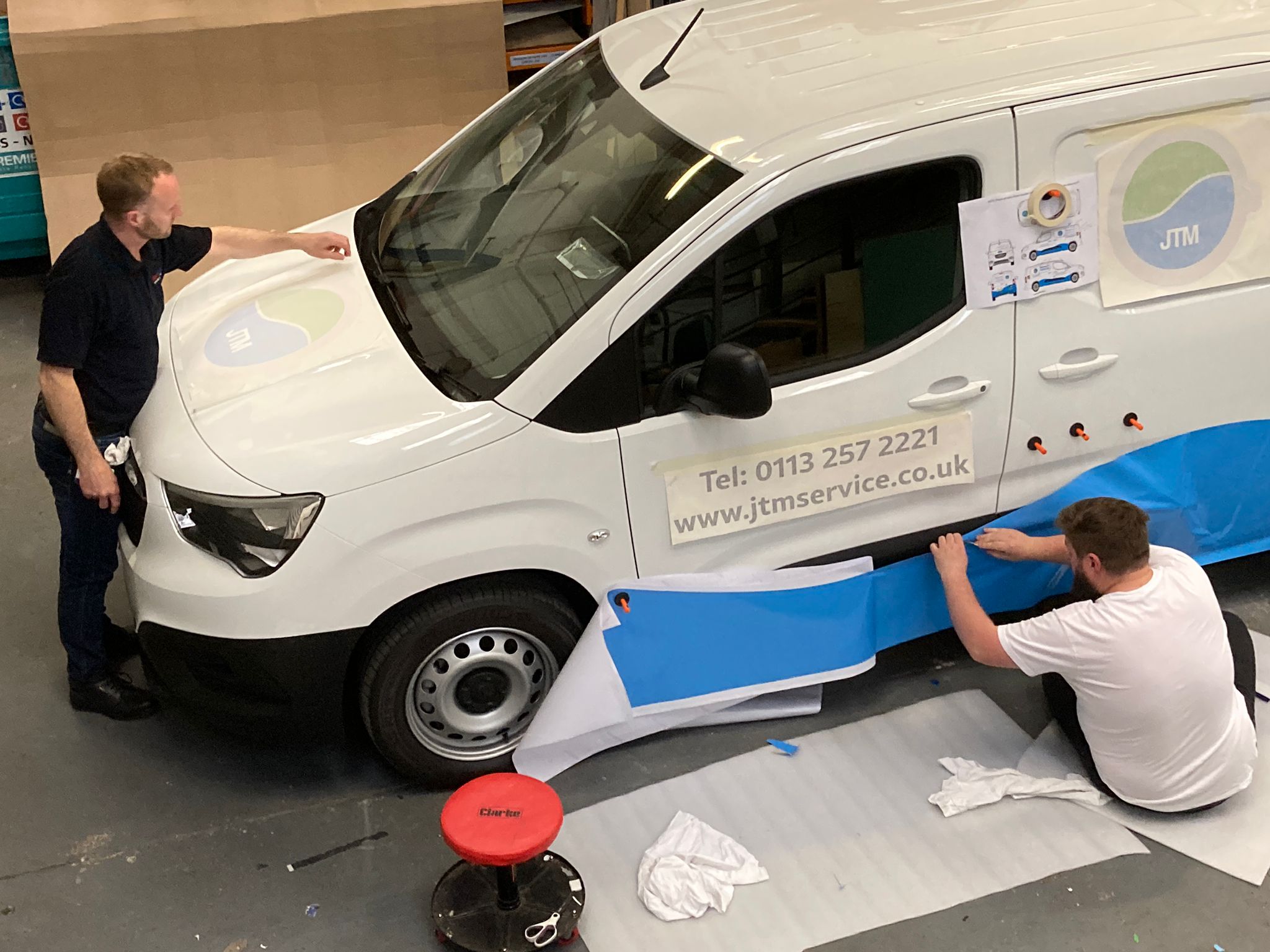 Here are our top tips for commercial van stickers:
Keep your lettering minimal. On the road, potential customers won't have chance to read a lengthy chunk of text. The shorter your text, the more likely people are to remember it. Think about what information is most important. Generally, it's best to keep things simple with your company name followed by a simple tagline or list of services.
Similarly, keep the font simple. While cursive fonts may appear eye-catching and unique, they're much more difficult to be read from afar. Stick with a traditional font that's easy to read.
Make a statement with colour. For an eye-catching result, opt for a full-colour image or logo for your van sticker. Choosing a bold colour that stands out against the existing paint of your vehicle means you won't blend in on the road. It's best to stick to one or two colours to ensure your branding is clear and cohesive.
Keep it consistent. The last thing you want to do is confuse your customers with inconsistent branding. You want your business to be clear and instantly recognisable, so stay true to the branding on your website, social media platforms or promotional material rather than trying anything new.
Check out our vehicle graphics page for more inspiration.
If you'd like to discuss advertising for your van, we can help. Get in touch with our Leeds team by calling 0113 248 3500 or emailing leeds@fastsigns.com.