Download your free look book from FASTSIGNS® Leeds, filled with creative and innovative ideas for interior signs.
Get your business's message seen – check out the look book
Find out how to communicate your message effectively and make sure your business looks the part. Our latest look book is packed with easy and creative ways to transform your interior space and beyond.
Printed signs and graphics are a simple way to get your message seen. They can be fitted to almost any blank wall, window, door or floor space to effectively share news, information or eye-catching branding.
Inspiring offices
Your office space is a blank canvas for your branding and messages, and a well-designed and welcoming workplace nurtures a positive office culture, for both employees and any visitors.
A great modern office will inspire those working there with a cohesive and professional finish. This could include anything from bright and creative meeting spaces to eye-catching branded wall graphics.
Connect to nature
Biophilic design is a concept used by architects and interior designers to help bring the outdoors in. It utilises natural resources in order to enhance a connection to nature, to a harmonious and inviting effect.
We've got some inspiring ideas and examples of easy ways to introduce biophilic design to your interiors, from living walls to murals.
See your name in lights
Illuminated signs are guaranteed to catch the eye of your passing customers, and are an increasingly popular way to highlight a business's unique branding or logo. See how we've helped the businesses of Leeds and West Yorkshire create a statement with lights.
…and more
Here's everything you'll find in the look book:
Office interior graphics inspiration
Biophilic design tips – how to connect your interior to nature
Eye-catching illuminated interior signs
Practical wayfinding signs
Plenty of creative signage examples to help inspire you
Get your free copy here. Open the book to view it and use the link in the top left corner to download.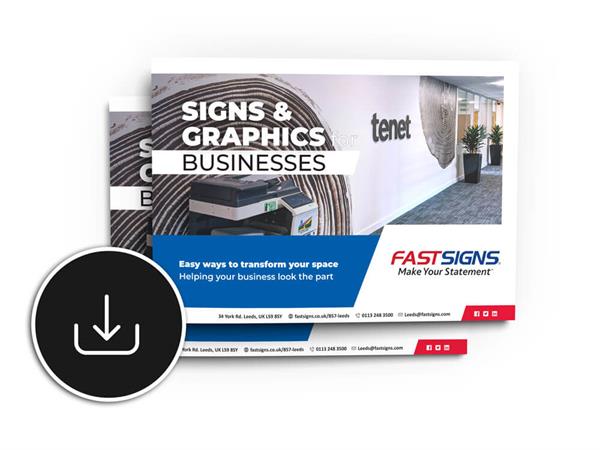 We're your local signage and graphics experts, and it's our job to make sure your signs and graphics are performing as they should be. If you want to know more about how we can help your business get your message seen, get in touch with our team for a chat.