Find out how FASTSIGNS Leeds provided new signage for Hitachi's rebrand to Novuna in this case study.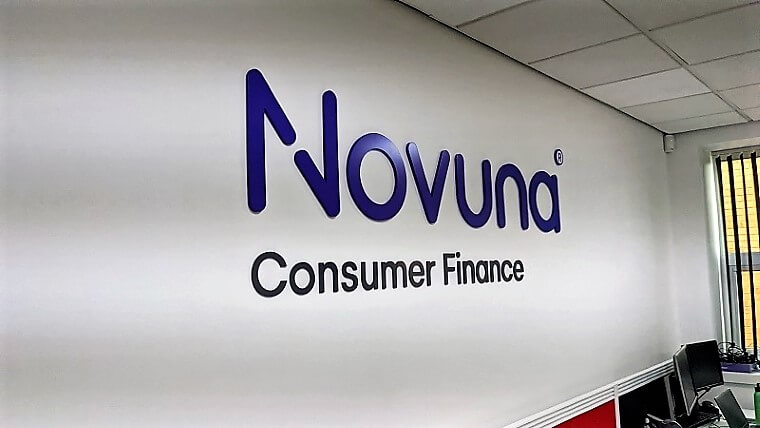 We helped Hitachi Capital Business Finance, one of the UK's largest asset finance providers, as they went through a major rebranding process earlier this year. They're now known as Novuna Business Finance, a name change which MD Geoff Maleham explains:
"Novuna comes from the Latin words Novo – New and Una – Together, which captures the essence of our business and how we work together with businesses via our network of introducers to meet their funding requirements."
At FASTSIGNS Leeds, we have a pre-existing relationship with Hitachi Capital. We've been working with them since 2014. We had already previously provided signs and visual graphics for their office space in order to help them build brand awareness and offer a warm welcome to visitors and employees. So, when they needed new signage to reflect their rebrand, they reached out to us.

The importance of effective rebranding
Having a strong brand gives customers the confidence to trust the goods or services a business offers, so it's important to maintain a strong brand look and message when rebranding. There are a few things that should be kept into account during a large rebrand:
A rebrand should always be visually impactful. Strong, clear branding sticks in customers' minds, so creating a confident brand identity that aligns with your vision and values is the first step. The next is ensuring the rebrand is successfully launched and the new message conveyed. New signage is a huge part of this, which is where we can help.
 
Branding elements should always be easily recognisable and consistent. Using the same logo, colours and fonts throughout makes the new branding immediately identifiable and easier to recognise – both for customers and for staff who have to adapt to the rebrand.
 
New branding should be used throughout the premises, particularly in areas where customers will see the brand. This could include anything from window graphics and wall graphics to more creative ventures like branded furniture or appliances.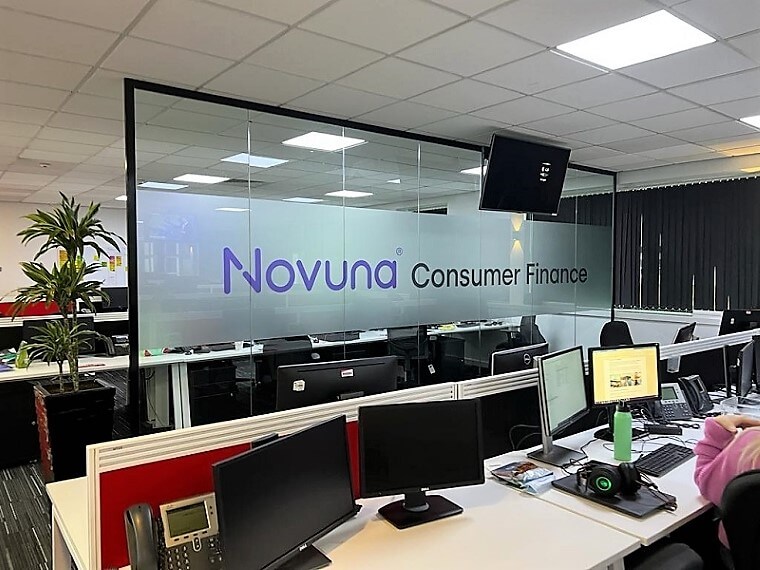 Hitachi becomes Novuna
The scope of the Novuna rebrand was pretty large. To help Novuna launch its rebrand, we provided signage and graphics that included:
External illuminated signs
 
External parking signs
 
Internal wall logos
 
Internal glass manifestations

The branding had to be consistent throughout the building, and Novuna ensured the smallest details were covered in order for the rebrand to launch successfully – including a branded vending machine. This is a great way to get staff on board with a rebrand and ensure the new look sticks in their minds as they see it regularly throughout their workday.

Novuna trusted FASTSIGNS Leeds not only with just the installation of the signs, but also took advantage of our design services too. Our in-house design team created mock-ups for all the new signs which we presented to Novuna so the sizes and positions could be approved before the install. This was important to ensure the signs were right the first time.
The most challenging part of this project was installing the high-level signs. Due to the height of the signs, scaffolding had to be built in order for our installers to have safe and secure access. We successfully coordinated this with the access company at the site.
With our help, Novuna ensured their office space was brought up to date following their rebrand. Their new signs cover internal and external spaces and create a strong, new brand identity that both staff and customers can connect with.

Do you need our help with a rebrand? If you have any questions or want to find out how we can help you transform your space, get in touch.