Find out how we helped Leeds design agency, Made Together, transform this corporate office space with window and wall graphics.
Background
Made Together is a Leeds creative design agency that works closely with Callcredit Information Group (Callcredit) – a large, Leeds-based credit reference agency that provides data and technology solutions to a wide range of high-profile clients.
The Challenge
As a part of a full refurbishment, Callcredit had approached Made Together to help them transform the ground floor space and conference rooms at their Leeds headquarters in order to:
Better represent the brand.
Create a more innovative and inspiring working environment for its staff.
With the reception and meeting rooms on the ground floor of the building, Callcredit also wanted the area to generate a good first impression and function as a suitable place to host clients and visitors.
The space needed to remain light and airy, however, there had to be a certain level of privacy between the different areas to enable confidential meetings to take place.
The Solution
Working from Made Together's creative designs, FASTSIGNS® Leeds produced 85 sq metres of self-adhesive and etch glass vinyl graphics that were strategically positioned around the walls, doors, and windows of the space.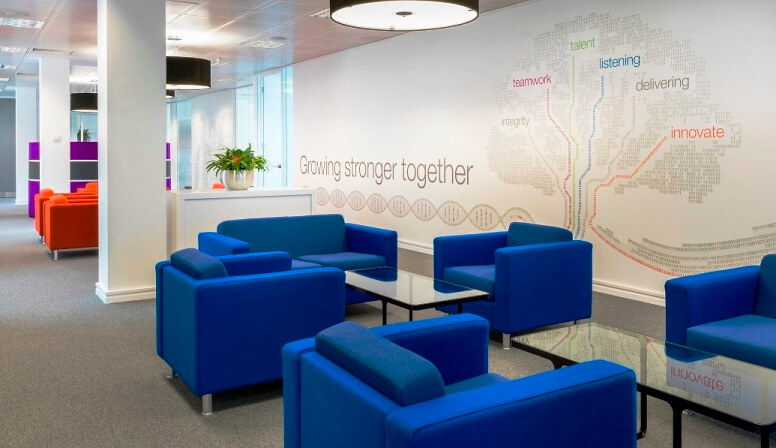 Added value
With years of experience delivering wall graphics throughout Leeds, FASTSIGNS was able to respond to Made Together's request with an effective and straightforward solution that took into consideration the different surfaces and shapes of the space.
Our one-stop-shop service meant we were able to understand the requirement, agree on a course of action, and deliver a result as quickly as possible.
The result
With the printed vinyl, a trail of binary code was weaved across the blank walls, reinforcing Callcredit's expertise as a data provider. This pattern was interspersed with bursts of their corporate colour palette to highlight the different rooms and add further visual impact.
Made Together's design immediately draws the eye around the space while creating opacity over the windows at head height to provide privacy between the meeting rooms, creating an appealing yet practical space.
The graphics took the FASTSIGNS team 3 days to install, causing minimal disruption to the business, and avoiding a costly and permanent paint job. The ease of applying and removing wall graphic panels made them the ideal material for a leased office space.
Made Together said: 'Having worked with the team on numerous projects, FASTSIGNS was the obvious choice to deliver the installation on this project. Working to fairly tight deadlines, they were efficient and caused a minimal disturbance. This was the 3rd project delivered successfully with this client.'