Discover novel, and proven, ways to promote your summer events in this blog from visual communications experts, FASTSIGNS® Leeds.
Festival season is upon us and communities large and small are coming together to celebrate the things they love most. Be it beer, baking, horticulture or live music, British summertime has something for almost everybody.
With any local fayre, festival or fete, one of the main concerns (apart from the weather!) is achieving the right turn out. And good advertisement – both on-site and around it – helps to create a buzz and draw in as many visitors as possible.
There are plenty of different ways to get the word out, and we help organisers advertise local events of all shapes and sizes. To give you a few ideas, here are details of some of our recent projects:
Temporary event banners
Have you spotted these @CollRealBeer banners around? Well, don't they look great (even if we do say so ourselves!) We can't wait. 🍻 pic.twitter.com/b8EYGMllzS

— FASTSIGNS® Leeds (@FASTSIGNSLeeds) May 23, 2017
Temporary event banners are fantastic, as they can be hung pretty much anywhere and immediately grab the attention of passers-by.
We helped Collingham Real Beer Festival advertise their annual get-together with these smart banners that we installed around the area. With the ability to print in any size, we were able to make sure all of the relevant information was displayed clearly.
Doesn't this banner look great? We can't wait for the big game next weekend! ⚽️ pic.twitter.com/Te6HjFDXtR

— FASTSIGNS® Leeds (@FASTSIGNSLeeds) April 7, 2017
Because they are cost-effective and so simple to create, temporary banners are ideal for charity events, helping to drum up support from the local community. We even helped Yorkshire Air Ambulance to advertise a one-off charity football match with this eye-catching banner.
Custom event flags
Whatever's going on at your event, there's likely to be a multitude of different stalls, stands and activities, all competing for people's attention. Customised flags are a great way of making your stand known, as well as injecting a bit of festive fun.
Customised flags are extremely easy to pack away and store, making them a good investment due to their re-usability. Onwards and Upwards letting agents will now be able to reuse this flag at every event they go to.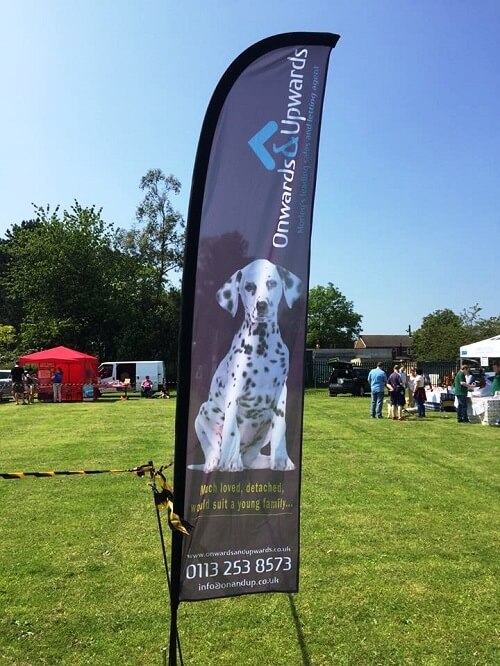 One-off centrepieces
Depending on the event you're organising, there may be something extra special that you have in mind. Customised centrepieces are great, as part of a game or simply for display, and can be the reason people remember your event.
We recently created this printed board graphic as a part of a Del Boy-themed scarecrow for the Darrington Feast & Fayre. The scarecrow was a real talking point, and you have to appreciate the effort that has gone into it!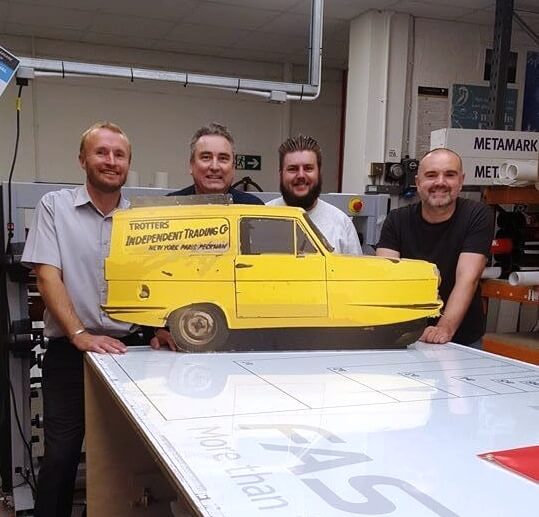 So, if you've got something unusual in mind, don't be afraid to ask! There's a way we can help you to achieve it.
Got an event coming up? Get in touch with our team to discuss creating customised signs or graphics today.