Selfridges have got the (snow) ball rolling. So, what's going into your Christmas window display? Here are some ideas from the experts at FASTSIGNS® Leeds.
With Halloween scarcely upon us, some would argue that it's far too soon for whispers of the 'c' word to begin circulating. But the retail industry would beg to differ!
Last week Selfridges unveiled their 2017 Christmas window displays – and they did not disappoint!
Christmas has arrived at Selfridges! Come and visit our enchanting store and window displays at #SelfridgesLondon https://t.co/w2VmN512mN pic.twitter.com/uUb7asq5Mt

— Selfridges (@Selfridges) October 23, 2017
Iconic window displays from department stores like Liberty, Selfridges, Fennicks and Harvey Nichols are a much loved British tradition. And many see it as the official start of the Christmas shopping period.
So, as Selfridges have so kindly got the (snow) ball rolling, we thought we'd share some quick ideas on what we think makes a brilliant festive window display!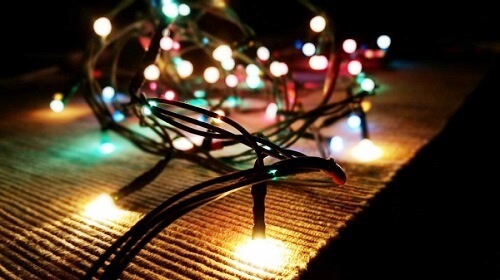 1. Light up the night
With the darker days drawing in, illuminating your window display is an absolute must. Whether you use spotlights, strip lights or pretty little fairy lights, ensuring your display is shining brightly for the world to see will help you draw in customers like moths to a flame.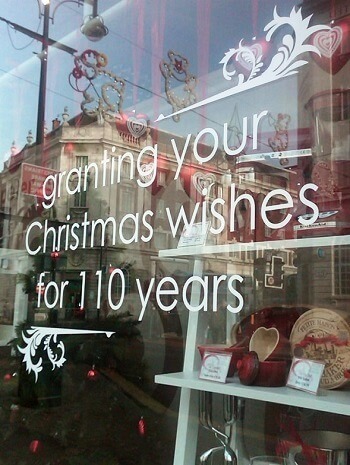 2. Send a personal message
Writing works brilliantly on window displays as text helps to capture your audiences' attention. Using window vinyl to write something personal invites customers inside and helps to share a little bit of your brand personality.
Whether your wording is witty or whimsical, using eye-catching fonts and a complementary colour palette will help you to create something that looks great and reads well.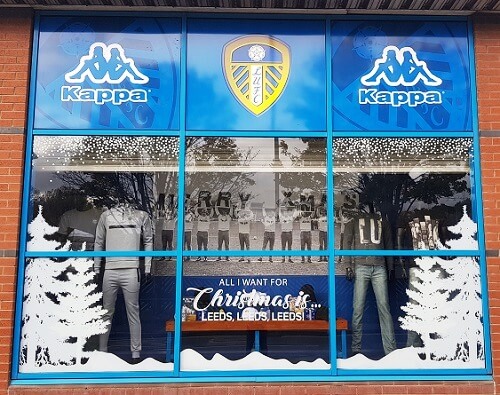 3. Let it snow!
We're not often treated to snow at Christmas – or at least not like the snow in fairytales! So, when it comes to your window graphics, you can't go wrong with a little bit of frosty magic.
Cascading snow flakes, powdery snow drifts and Antarctic icicles – there are dozens of way to use snowy printed graphics to add an instant injection of festive cheer!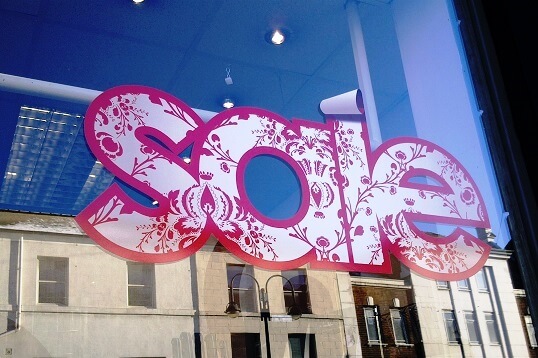 4. Stick to a creative theme
While some of the bigger window displays might seem to cram everything in there for added spectacle, smaller businesses can't afford to let their messages be lost.
If you have a sale to advertise, say it. Just make sure that you choose one creative theme or style, then keep it simple and stick to it. That way you'll end up with something that looks great and isn't overwhelming.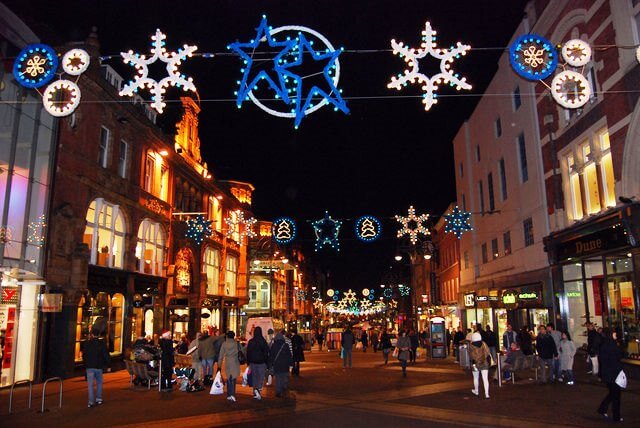 Photo © Malcolm Morris (cc-by-sa/2.0)
5. Keep the magic alive
Although Christmas shopping is undoubtedly about savvy purchases, it's mainly about the festivities. Lots of people enjoy browsing the streets as they shop, soaking up the twinkly lights and smell of roasting chestnuts as they go.
Advertise your products, services and offers, for sure. But don't let that ruin the magic. Creating something that's pretty will attract more positive attention than urgent product pushing. And besides, there's the January sales for that!
Got a window that needs dressing? Tell us your idea– we'll help you get started!