Discover 5 tips for attention-grabbing display graphics and take a look at some examples in this blog by digital printers, FASTSIGNS® Leeds.
Want your display graphics to turn heads?
When you need to shout about an event, promotion, sale, or announcement, bright and colorful display graphics are the best way to do this.
Your design and where you display the graphics determine how noticeable your message is and how many people see it. Do you want to make sure your display ticks all the right boxes? Try these 5 quick tips for an attention-grabbing design.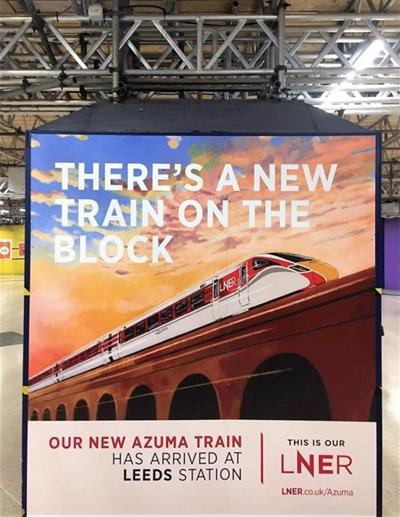 Make the design striking and attractive

Display graphics come in every shape and size. But they should never be plain or bland. Your design needs to pop – and by this we mean it should have an interesting or attractive composition.

Try using a blend of images and carefully chosen text, plus complimentary colors. It's important not to include too much information and this will be overwhelming. Instead, use images to draw in the eye and have key text that's bold and jumps out at the reader.

The example above does exactly this. We printed and installed a series of posters for LNER to launch their Azuma train at Leeds Train Station. This design balances the beautiful image with large, eye-catching text, making the message immediately clear to those who pass by.


Choose an unusual canvas

We've all seen hundreds of posters and billboards. We pass them so often in our daily lives we're probably used to not noticing them much of the time. But, what about if you passed a branded caravan in the middle of central London?

You might double-take then. That was the thinking behind this vehicle wrap design we completed for Hearology to support their mobile hearing test promotion. Although using a caravan to backdrop your display's graphics might seem a lot of effort, it's sure to turn heads. It's the perfect example of a visual campaign where thinking outside of the box has made it more successful.

You could try these unusual canvases for your display: windows, floor, ceiling, seating, hanging or suspended, stairs and walkways.


Tell people something new and interesting

If you're trying to prick someone's interest, surprising them with a piece of information or teaching them something new is a great tactic. Statistics are particularly useful for this as our eyes are naturally drawn to numbers and they can be processed almost instantly.

This infographic-style display was installed at the White Rose shopping centre in Leeds as part of their summer sustainability campaign. It includes a large number in the headline as well as lots of images and colors. Passers-by will need to read the text to find out what the number is showing, making the display more engaging and sharing the message more widely.


Share your message in more than one place

Effective display graphics are about communicating a message. In busy public places, you can't be certain everyone is going to pass by and spot your display the first time. That's why if you have an event or announcement you want everyone to notice, it's best to use a series of display graphics.

We helped the Trinity Leeds shopping centre do this with their superhero selfie competition. We installed display boards, banners, and window graphics along a walkway, making the competition information visible from all angles.


Make it interactive and memorable

When you're looking to create a buzz in public or retail spaces, display graphics that encourage passers-by to get involved or are supported by an activity are hugely effective. If people can interact with something, it becomes instantly less 2-dimensional and more memorable.

Take this display for Mulberry, for instance. The graphics are surrounding a promotional Christmas vending machine. Because of its size and shape, it stands out amongst the crowds and catches the attention of curious shoppers. Interactive displays like this one go to show that if you spend time creating something a little different, you stand a good chance of impressing your audience.

Do you have news or a promotion to share? Tell us your idea and we'll help you design eye-catching display graphics to get your message heard.