The owners of Hammersmith's FASTSIGNS franchise centre have relocated to a purpose-designed facility where they can deliver an even wider range of products, services and comprehensive solutions to their customers.
Since it opened more than a decade ago, husband-and-wife Simon and Friederike Slee have seen significant year-on-year growth at their award-winning graphics, signage and visual communications centre. From its launch, the team has grown by 30 per cent with a view to recruit additional staff now the move to the new centre is complete.
Located on Stirling Road, the new manufacturing facility has a floor space of 3,500 square feet, making it three times bigger than the previous centre, located on Hammersmith Road. The company has invested £250,000 in the move and state-of-the-art machinery, including a Zund cutter which will help improve in-house capacity and increase product capabilities.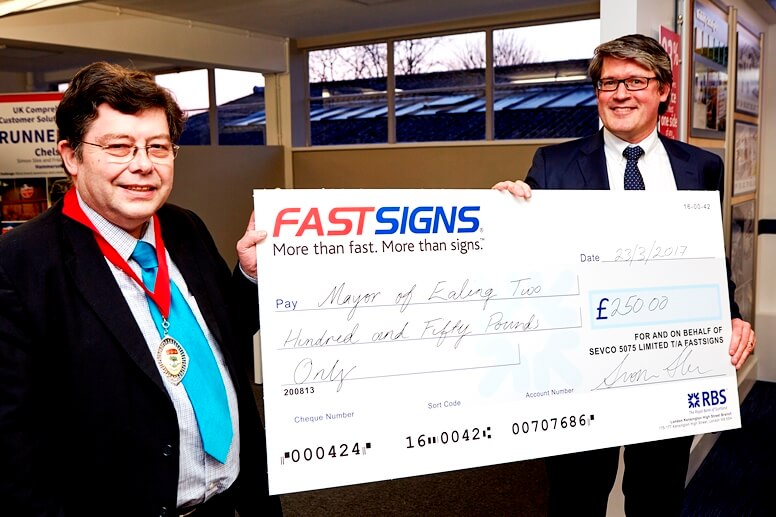 To celebrate the opening, the 2017 Mayor of Ealing, Councillor Simon Woodroofe, visited the team on 23rd of March to officially cut the ribbon.
Simon, who is joint director along with Friederike, said:
"We are proud of the fact that we have built a highly profitable business, offering everything from concept design to installation. Although our centre is independently owned and operated, we have benefited from being part of the FASTSIGNS network, which offers ongoing support, tools and other resources.
"This move represents an exciting new stage in our journey, giving us the space to grow and become a centre that can provide an all-encompassing service for everything from marketing material to signs to our customers.
"For us, our growth strategy is very much based around our customers, and we were thrilled to be recognised at the Hammersmith & Fulham Brilliant Business Awards when we won the Best Customer Service accolade. Playing an active role in the local business community is important to us, and we hope we have helped other companies in the borough to flourish over the years."
John Davies, Managing Director of FASTSIGNS UK, said:
"Simon and Friederike are an integral part of a network of more than 23 FASTSIGNS franchisees in the UK. They have worked exceptionally hard and their expansion is testament to this. I am incredibly excited about their move and can't wait to see their business continue to develop and flourish in this new environment. Using the tried-and-tested FASTSIGNS model, as well as their own fresh ideas to drive the company forward, I know that their success will inspire others across the network."
For more information on FASTSIGNS, visit www.fastsigns.co.uk/872.