Design Dental Clinic
A new dentist was in need of a sign for his new practice
The Challenge
A new dentist moved to the local area and was in need of a sign for his new practice. We were more than happy to hear that we came highly recommended by another business in the area.
The Design Dental Clinic had a clear idea of what they wanted for the signage - halo illuminated sign tray.
The Solution
After a phone discussion with the client, our sales team was able to determine what the desired look and feel is what the Design Dental Clinic was after. This was a sleek looking, illuminated sign with a matching projecting sign.
The best way forward was an aluminum sign tray - this will firstly allow for the halo illuminated effect the client was after. But it also opens other opportunities for other illumination and sign engineering.
Firstly we discussed what to do with the logo / graphics that will be displayed on the sign tray. Together with the client it was agreed to enhance the illuminated effect and highlight the logo by making the sign tray fret cut with pushed through acrylic text, internally illuminated. Different thickness acrylic was used to emphasize the more important text - this means more illumination in this area.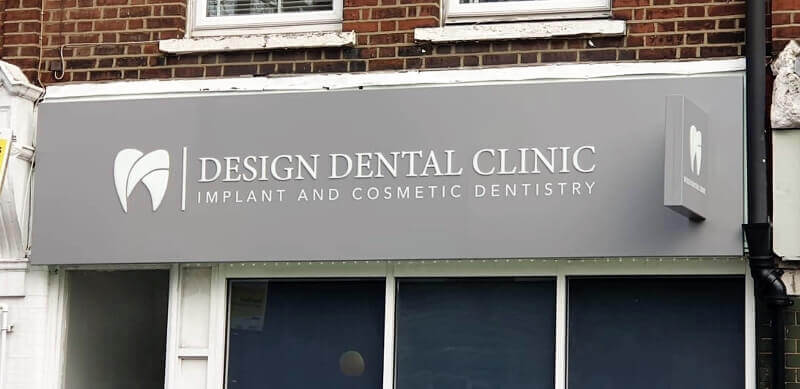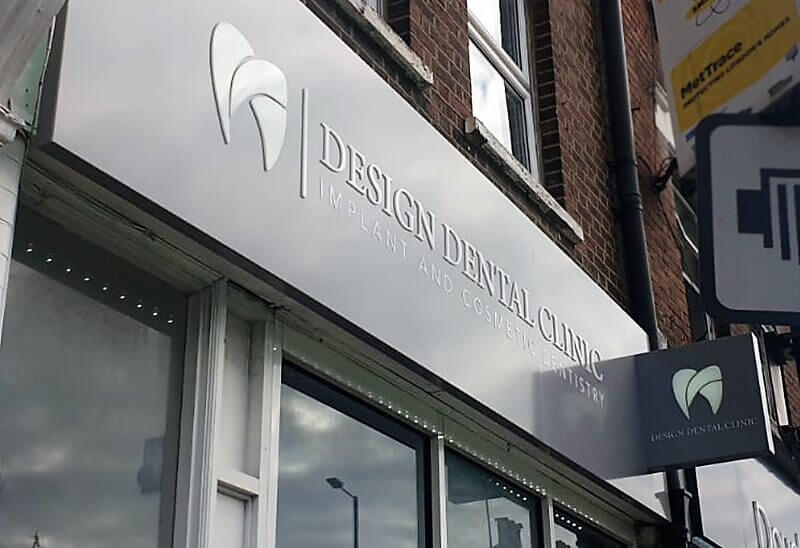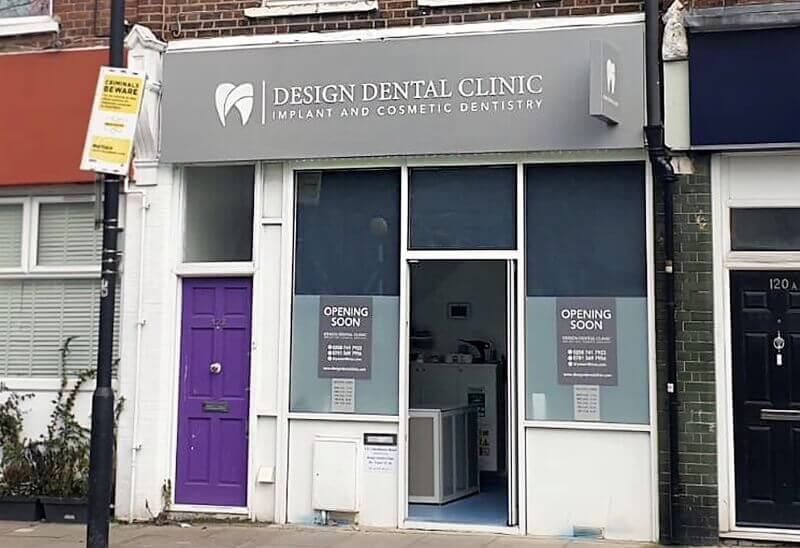 The next point of discussion was how to incorporate the sign tray. The main fascia sign had such a beautiful clean look, we wanted to extend that to the projecting sign. The end result is a double sided aluminium sign tray, to match the main fascia sign. The projecting sign is also internally illuminated with acrylic logo details.
The last bit of detail we had to resolve was how to fix the sign tray to the fascia sign. We ended up with a seamless fixing - fitting the projecting sign tray directly into the fascia sign so no fixings are visible.
The Result
After both a technical build and a technical installation, the end result is a beautiful smart looking fascia sign. One that communicates the aesthetic the client wanted for his new business.
During the process other signage like internal wall graphics and business cards were also discussed as future projects to finish off the branding.