The heat is on as FASTSIGNS® Hammersmith supports the Simon Cooper Foundation with fund-raising BBQ.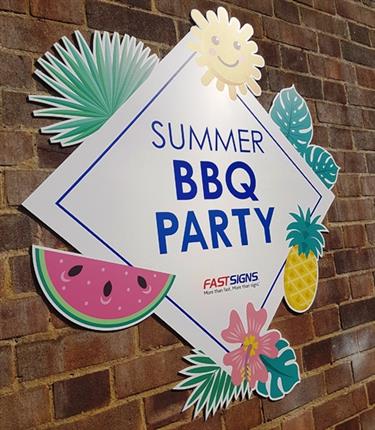 With Britain sizzling like a sausage on a grill, conditions were ideal for the FASTSIGNS® Hammersmith summer barbecue on July 13.
We extended a warm welcome to customers, staff and fellow FASTSIGNS franchisees for an evening of fun and fund-raising.
Thanks to everyone who attended and made the evening such a success, not least because of the boost it gave to our support for the Simon Cooper Foundation.
We are part of a franchise-wide initiative, the Go The Extra Mile challenge, to support the foundation, a cause close to the heart of the FASTSIGNS family.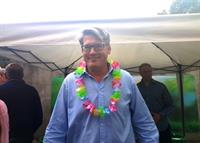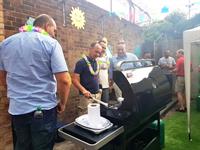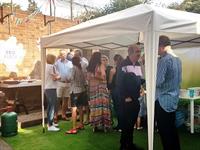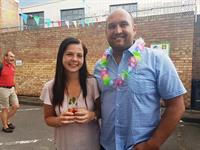 Seb sprints to glory in the saddle
Part of the entertainment was three mini-games that guests paid to enter, with proceeds going to the foundation.
Bike Challenge: The test was to cycle as far as you could in a minute, on comically small exercise bikes. This was won by Seb Gorka, installation manager at FASTSIGNS, who covered 349 metres. It should be noted that Seb was also responsible for building the bikes… had he been putting in some secret training?
Hoop Challenge: The winner was Diana Wilson of Physio On The River, a loyal FASTSIGNS customer, who was on target with a seriously impressive eight out of 10 shots from official competition distance.
Guess the Weight: The box in question weighed 1.520kg and Julia Sakowicz of New Line Construction, a new FASTSIGNS customer, was only 17g away with a guess of 1.503g.
Simon Slee, owner of FASTSIGNS® Hammersmith, said: "It was a fantastic evening. Everyone had a great time – and we helped to raise funds and awareness of a great cause as well."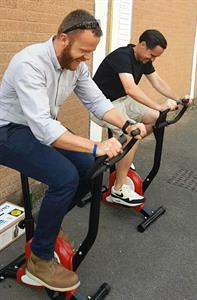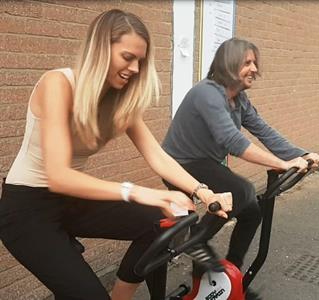 Our team rack up the miles in office triathlon
The next phase of the Go The Extra Mile challenge comes to FASTSIGNS® Hammersmith this week. Each of our 17 offices has pledged to cover a minimum of 42.3 miles in a week this summer – a total of 720 miles.
Now it's our turn, and we're planning to reach our target with an office triathlon.
All colleagues are cycling, running or swimming and tracking their progress. You can keep an eye on our website blog to see how they get on.
If you would like to show your support, please contribute on our Virgin Money Giving page: https://uk.virginmoneygiving.com/Team/FASTSIGNS
We are aiming to raise £3,250 across the franchises – and we are now more than 80% of the way to that target, with £2,692.96 donated so far.
The Simon Cooper Foundation
Simon, the son of Paul and Angela, who have owned FASTSIGNS Enfield since 1996, was born with cystic fibrosis. He was a talented drummer, and was playing in the main band at the Chicken Shed Theatre when he was 15.
In 2012, after a serious deterioration in his health, Simon received a double lung transplant – and 100 days later was playing drums at the Christmas lights switch-on in Enfield.
He became an ambassador for the NHS's blood and transplant service, telling his story across the UK, and he was presented with an Outstanding Contribution Award for his efforts.
Sadly, Simon was diagnosed with lung cancer in January 2016 and he passed away six months later – two weeks after he married his fiancée Claire.
After his cancer diagnosis, Simon dedicated his time to raising funds for specialist care providers and hospices associated with cancer, cystic fibrosis and other life-limiting conditions. The Simon Cooper Foundation continues those efforts.
Where your donation will go
Funds raised will contribute to practical solutions for patients, including:
Exercise bikes for Papworth Hospital, which is building a new cystic fibrosis wing where, it is hoped, each in-patient will have a bike installed in their room
E-nebulisers that infuse medicine in under five minutes – standard nebulisers take 25
Specialist mattresses and bedding that prevent bed sores
We are so close to hitting our target. If you want to make a donation, please go to https://uk.virginmoneygiving.com/Team/FASTSIGNS