Now that your exterior is branded, keeping the theme active around your space will reinforce the decision to enter and welcome the person inside.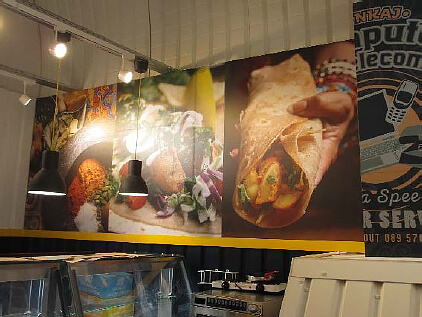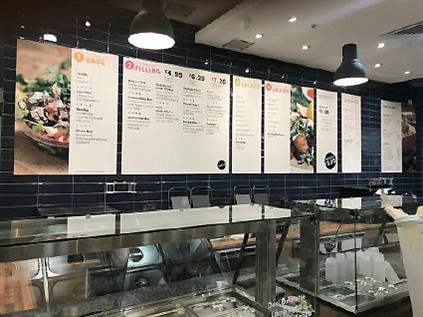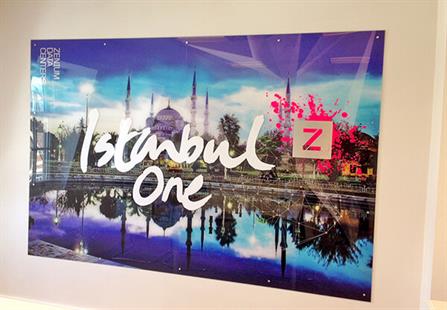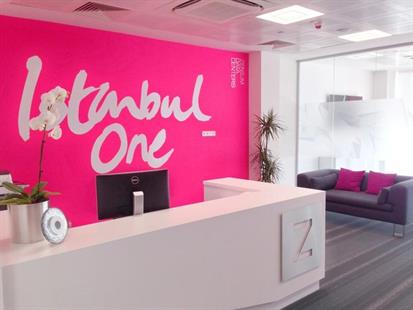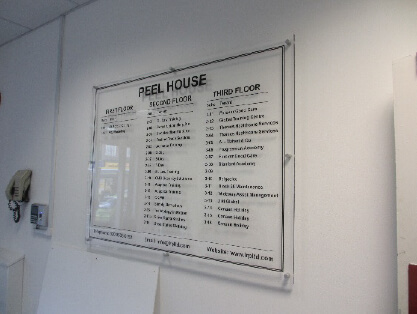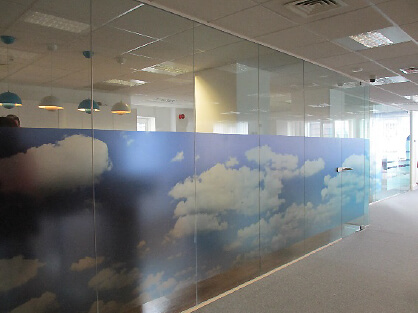 Challenge?
Enhance employee workflow, productivity and quality control. Or promotion of products and/or services. Or navigate the complexities of sign compliance to enhance safety.
Why?
Launch a new product or service with colourful point of purchase displays. Create custom wallpaper and counter graphics to extend your messaging through your interior décor.
How do you do this?
Now that your exterior is branded, keeping the theme active around you space will reinforce the decision to enter and welcome the person inside.
Draw people to areas and inform about product features, benefits, and pricing using displays, banner stands, digital signs, floor graphics, posters, and wall graphics. Have employees wear matching coloured shirts and hand out promotional items.
Or just create an inviting and personal workspace to your employees.
Here are a few ways to introduce the personality of the company to the interior:
Interior wall graphics – There is lots of fun ideas to explore in this area from wall logos or imagery or full wall wraps using wallpaper. Create the right message for your brand by making use of the blank walls around you.
Wall plaques – A simple and effective way to get your message across. We can use acrylic, foam PVC or Dibond panels to suit your style, budget and purpose of the signage. Wall plaques can be used in numerous sizes, either to be a big feature piece or to inform viewers of products, services, areas or directions.
Menus – Menus can be mounted to walls, freestanding or printed copies. Make it easy for your consumer to see what is available and make their visit enjoyable.
Directories – If you are part of a bigger building, help your visitors to find you by having an easy to read directory system. We can use a standard directory slat system or come up with creative ways to best suit your brand by custom made acrylic panels or vinyl direct to the wall. Locate these in the foyer or by/in the elevators.
Flags – An alternative option to grab attention is by using outdoor flags or banners. These are used commonly for events or promotions. They can be seen over the heads of crowds and is noticeable from a distance. Flags can also be packed up which makes traveling with them easy or store it for the next event.
Safety signs – Educate clients and employees of what to do in an emergency. We don't just do the fun and creative signs, we can also help you with your health and safety signs. These signs are available in different materials suitable for different areas.
Promotional materials – Give your customers flyer, leaflets or menus to take away with them. You can reach a bigger target by having these items leave the store with them. Or give a special shout-out to a promotion or special without investing in a larger graphic.
Manifestation – Covering a large area of space with frosted vinyl does not have to be boring. We can use frosted vinyl in numerous ways. For safety reasons large glass areas need manifestation. We can incorporate your brand identity into these simple manifestations to make it unique or cover larger areas to add more privacy. Frosted vinyl can be cut to specific shapes and designs or we can be used to display a printed graphic.
Freestanding banners – If you have a message to get across to your visitors and consumers, add a freestanding banner. Banners are noticeable over a crowd and will catch the attention of passer-by's. Roller banners can also be folded up and easily re-used.
In addition to helping you make it easy to promote your products and services, count on FASTSIGNS® to provide solutions for all your visual communications needs including extending your brand to your décor, and maximizing the effectiveness of your events, improving your wayfinding and so much more. Contact us. We're more than ready to help.
Do you think your space require some branding? Give us a call. We're more than ready to help.