The past year has been a busy one, and it has been fantastic to see so many Leeds businesses bouncing back. Our team is proud to help businesses share their messages and keep people engaged throughout the year with signs and graphics.
Coming to the end of the year, we've taken a moment to reflect on 2022 and look at the year ahead. Here, Andy Simpson, Director at FASTSIGNS Leeds tells us about his highlights and predictions for next year.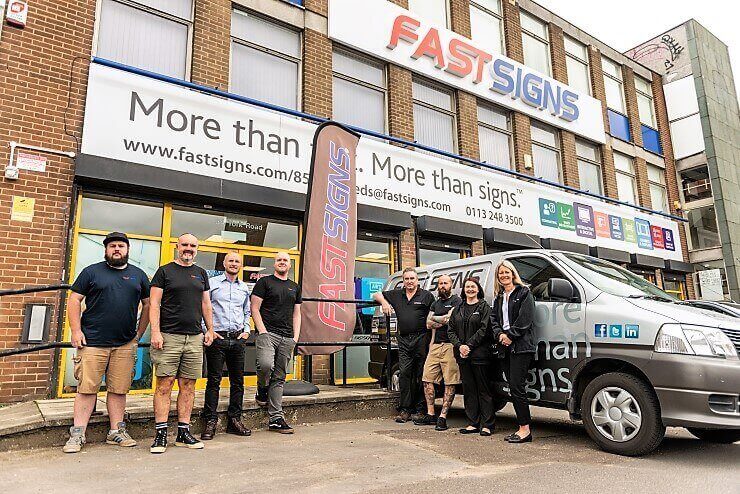 What were the highlights of 2022?
This year, it was great to get out and meet local businesses who were doing well and welcoming more customers through their doors. We saw businesses expanding, rebranding, and starting afresh.
FASTSIGNS underwent a global company rebrand, giving the brand a new look and launching a new website. We really like the simple 'Make Your Statement' tagline. It represents what we do each day; help businesses share the messages they need to with the wider world.
Here at the FASTSIGNS Leeds offices, we created a new meeting and chill out room to give us a space for catching up and relaxing. We are a close-knit team and it's nice to have somewhere to gather to decompress or have a laugh throughout the working week.
Do you have a favourite project from this year?
Speaking to the team there are loads of project highlights. We helped Hitachi Capital Business Finance, one of the UK's largest asset finance providers, as they went through a major rebranding process earlier this year, to become Novuna Business Finance. We installed many signs, including some at great height.
We supported Mike Bates' incredible charity challenge to row across the Atlantic Ocean, which is ongoing during December and January, by installing graphics to all sides of Mike's boat, the Atlantic Grappler. Mike is raising money for Leeds General Infirmary's Paediatric Intensive Care Unit, supporting the amazing staff and facilities there.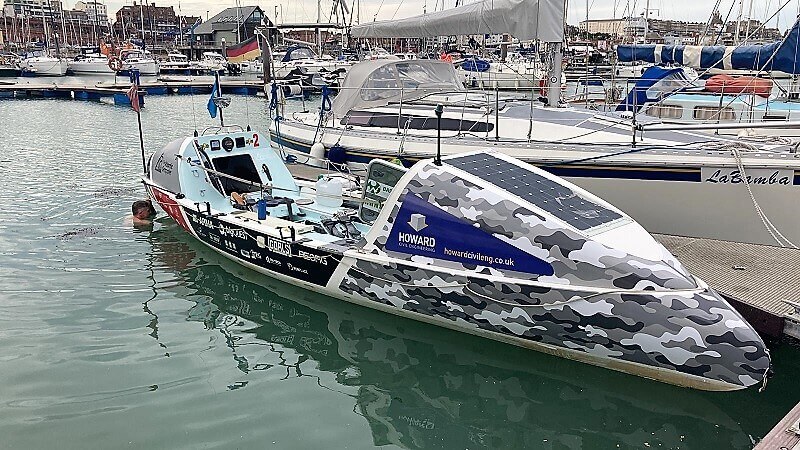 We installed some bright new graphics for the Leeds United supporter shops at the White Rose and Airport locations which looked great. We manufactured and installed three large, illuminated flex face signs for Northern at three different stations, which look impressive in the dark.
From vision to reality! 🟡⚪🔵

We've given the @LUFC shop at @LBIAirport a new lease of life with brand new graphics. ✨

Looks great, don't you think? #LUFC pic.twitter.com/djamgHMTqS

— FASTSIGNS Leeds (@FASTSIGNSLeeds) December 9, 2022
Another highlight was supplying wall wraps at Leeds University's Boddington Football Hub. The university opened its new community football club, and we were pleased to supply these colourful and inspiring wall wraps to brighten up the interior.
What's on the horizon for 2023?
We are working hard on creating a range of sustainable sign materials to offer customers next year. Rebecca and I recently attended a sign sustainability workshop to learn about new methods and materials that can provide sustainable alternatives.
It was great to leave the workshop armed with the latest information on sustainable materials, ready to talk to our customers about the options. We know that reducing the environmental impact of marketing and communications activity is important to lots of our customers.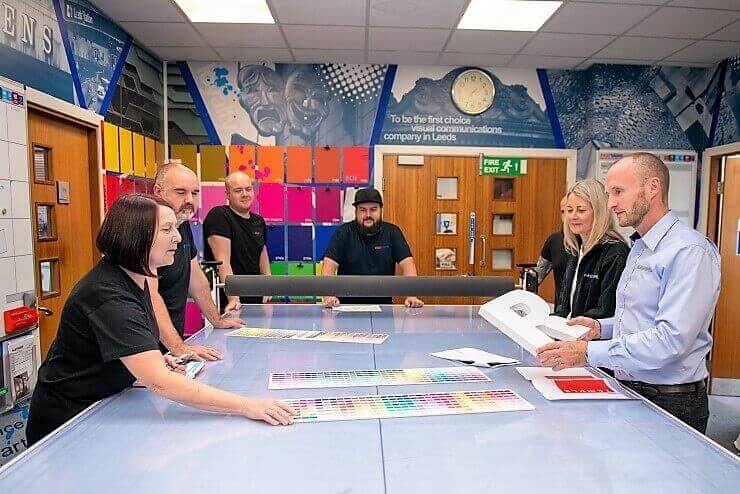 Can you tell us a little bit about the charities FASTSIGNS Leeds has been involved with this year?
As a local business, helping local charities is something we try and do as much as possible. In addition to the Atlantic Grappler graphics we mentioned above, we provided a new sign for OWLS (Older Wiser Local Seniors).
No rainy weather stops us at @FASTSIGNSLeeds!

It just means that @andysimpson17 might end up in a Costa Coffee toilet with his head under the hand dryer.

But you didn't hear that here... 😂🌧️☔️ pic.twitter.com/8cKMD3TJYy

— FASTSIGNS Leeds (@FASTSIGNSLeeds) April 12, 2022
Incredible Edible Garforth is a great project in the area I live. Their mission is to create a kind, confident and connected community through the power of food. They grow food in community planters, paint murals and work with schools and local businesses. We have donated signs for their planters and one for a wildlife area they are developing in Garforth.
What were the most popular products or services this year?
It's hard to pick a particular product as we have produced a huge variety of different signs and graphics this year. We have done a fair amount of illuminated signs, and faux neon signs are being asked for more and more.

Interior décor is becoming more and more important to businesses of all sizes to make the offices look great and be inspiring places to work. As many businesses move back to office-based working, businesses want to create warm and welcoming environments for their employees. Read more about:
Biophilic design for offices and workplaces
Celebrating company culture with signs and graphics
Improving communication with office design
Interested in commercial interior décor? We produced a visual look book filled with exciting ideas for how businesses can inspire and engage with interior signs and graphics.
See the interior décor look book
Finally, what's the festive opening period and how are the team celebrating?
We had a social last month at Flight Club in Leeds, and we'll have a Christmas fuddle on the 19th of December. We close on Friday 23rd and reopen on Tuesday 3rd January. The last order dates depend on the product, but for most simple signs, it will be Monday 19th or Tuesday 20th.
Want to hear more from the FASTSIGNS Leeds team? Follow us on Facebook, Twitter and LinkedIn for regular updates from the team.