FASTSIGNS International, Inc., the global leader in the visual communications industry, recently relocated its UK head office from Chesterfield to Stafford and announced John Davies as the new Managing Director for the franchisor's operations in the United Kingdom.  
FASTSIGNS International's UK head office is now located at Neptune House, Nelson Court, Dyson Way, Stafford Technology Park, Stafford, ST18 0WQ. A ribbon cutting was held at the company's new location, where FASTSIGNS International's Senior Vice President of Marketing Drue Townsend and other company representatives attended. 
Davies brings an extensive background in management and franchising, including having been a franchise owner of Bathstore. His experience includes franchise support, marketing, operations, franchise sales and development, business and financial management, supply chain and employee management for some of the UK's leading businesses.
"We're very pleased to have John on board and to relocate the head office to Stafford. The central location allows us to provide support to the existing UK FASTSIGNS® centres and gives us space to grow," FASTSIGNS International, Inc.'s CEO Catherine Monson said.
There are currently 19 FASTSIGNS centres in the UK. FASTSIGNS International is seeking new franchisees in the UK and area developers to expand into international markets. In addition to the UK head office relocation, FASTSIGNS will expand its team by recruiting additional experienced staff members to support the brand's expansion.
To find a location near you, visit www.fastsigns.co.uk/locations. For information about franchising opportunities with FASTSIGNS, contact John Davies (john.davies@fastsigns.com or (017) 852-5314 x0).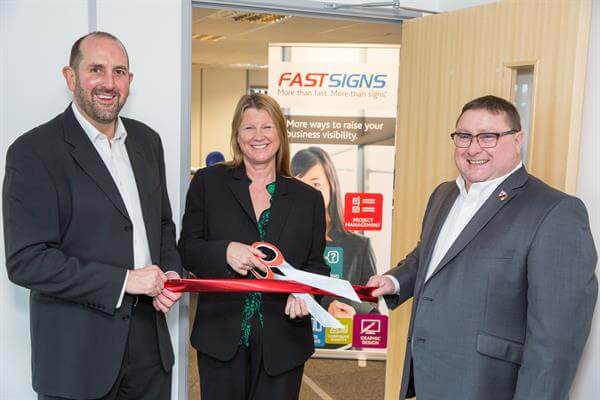 About FASTSIGNS®
FASTSIGNS International, Inc. is the worldwide franchisor of more than 590 independently owned and operated FASTSIGNS® centres in nine countries including the US, Canada, England, Brazil, Saudi Arabia, UAE, Grand Cayman, Mexico and Australia (where centers operate as SIGNWAVE®).
FASTSIGNS consultants provide comprehensive visual marketing solutions and help companies of all sizes and across all industries attract more attention, communicate their message, sell more products, help visitors find their way and extend their branding across all of their customer touch points including décor, events, wearables and marketing materials. Learn more about sign and visual graphic solutions at fastsigns.co.uk.