Esher Church of England High School
---
Lighting the Halls of Creativity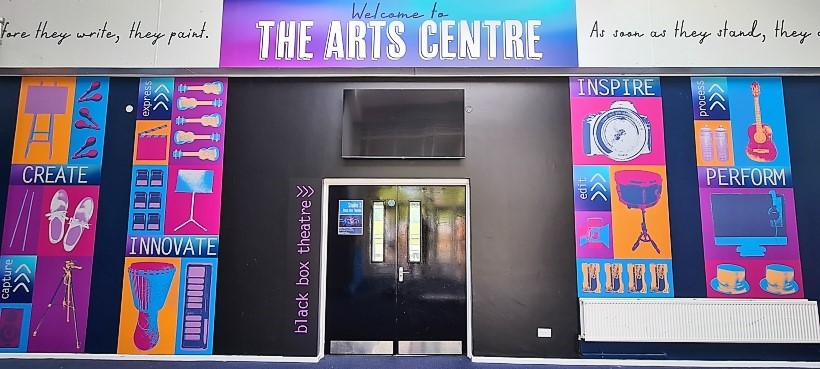 The Challenge
Esher Church of England High School Arts Centre's entrance and lobby area were uninspiring and drab. The space required a new lease on life to help deliver a creative experience for students and visitors.
The Solution
With the arts centre operating as the creative hub of the education facility, the blank white walls of the entrance and lobby were not reflective of the application of arts that took place within the centre. To help ensure that students understood that the school was invested in delivering a fantastic Arts Programme, FASTSIGNS® helped to develop an interior decor scheme that really made an impact.
Using dark blue paint as a backdrop to the signage elements, FASTSIGNS developed graphical representations of the artistic disciplines that the School offers to their students, including photography, music, art and theatre. These designs were printed onto vinyl and wrapped onto aluminium panels. These panels were installed around the entrance to the Arts area, creating an energetic visual.
To provide more opportunities for motivation, large inspirational quotes were installed as pelmets below the ceiling to ensure that as people move through the facility, they have the opportunity to take in the quotes. Finally, FASTSIGNS recommended installing LED strip lighting, positioned as downlights to provide an even more impactful aesthetic.
The Result
The entrance to the artistic hub is now visually appealing and ensures that as students and staff move into the study areas they have passed through an environment that sparks creativity.
*This project was completed by FASTSIGNS of Kingston.