The New Road Hotel
Signage to Compliment a Historic Building

The Challenge
The New Road Hotel, a boutique establishment launching in an out of use textile factory wanted signage to bridge the gap between the building's heritage and the modern 'New York Metropolis' inspired aesthetic. The signage also needed to assist with wayfinding and attract the attention of passing footfall.
The Solution
The heritage factor of this project quickly became the priority, ensuring that signage made the most of the property's previous usage. FASTSIGNS met with the customer to outline ideas and materials to help them achieve the desired look, capturing the sleek, elegant and modern style of the new boutique hotel whilst paying homage to the past.
As the building is mostly glass fronted, FASTSIGNS took elements from the hotel's logo which factors sewing equipment such as needles. As a nod to the building's past, FASTSIGNS took elements from the logo, including needles, scissors and thread and created black vinyl window graphics, which created the illusion of a stitch running across the full glass panned area.
In the open plan lobby, a large acrylic sign was hung behind the reception desk to help identify the space, whilst incorporating wayfinding signage to help guests navigate their way to their next destination within the hotel. Illuminated lightboxes were also hung in the lobby to showcase news and information to the hotel patrons.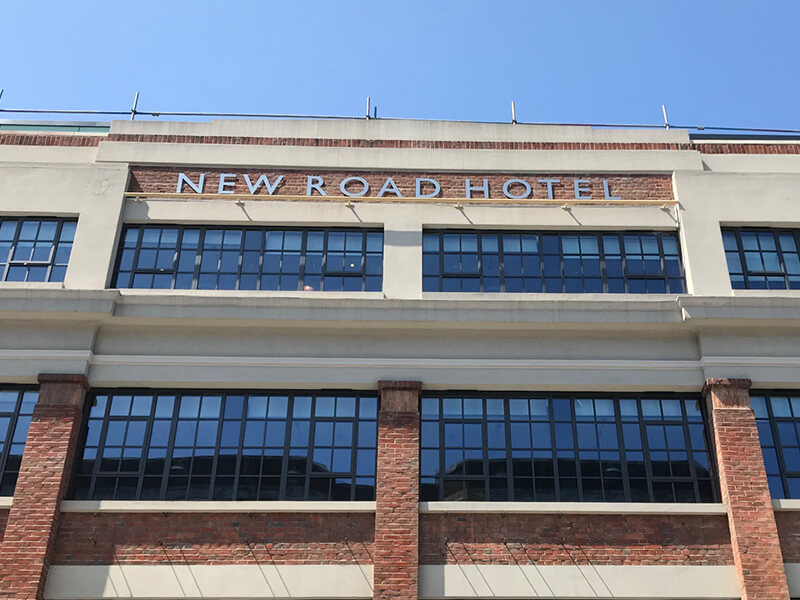 Externally, FASTSIGNS helped to attract attention by installing brushed stainless steel letters with an upward facing trough light at a height of 12 meters using a cherrypicker for installation. The height at which the sign is installed at and the illumination ensures that the hotel can be identified at any time of the day or night and from a distance. Three projecting signs were strategically installed on the building's exterior to help customers walking along the pavement to identify the hotel's location, the hotel's logo was applied using hardwearing vinyl lettering.
The hotel also partners with a well know chef, who opened a restaurant within the hotel. In order to showcase the eatery's menu's, FASTSIGNS suggested the installation of five internally lite menu case. These were hung in the windows to attract passing custom and provide menu information that could be seen at any time of the day or night.
Prior to the launch of the hotel, FASTSIGNS also installed a large wall mounted banner which informed the local public of the hotel's official open date.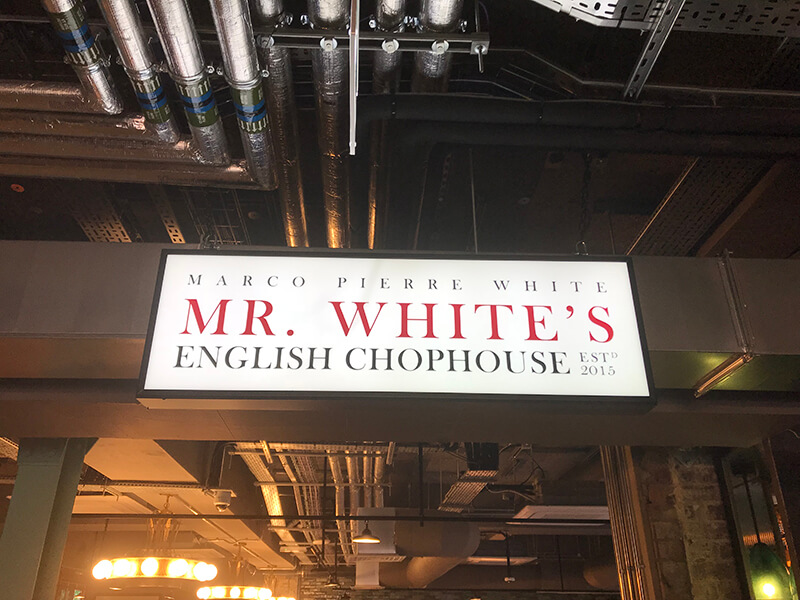 The Result
The hotel achieved their simple, New York inspired aesthetic which also cleverly tied in their heritage of the building. Since opening the owners have contacted FASTSIGNS to quote for further projects in the hotel and have also stated that their business is booming!