At FASTSIGNS, we pride ourselves on the huge range of graphics, banners and signage solutions that we offer to our clients.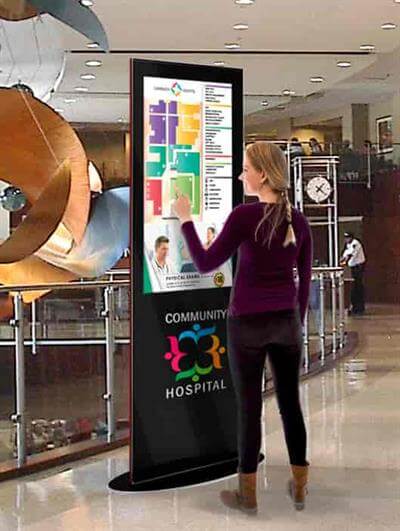 Alongside other popular products such as floor graphics, vehicle graphics and traditional banner stands, every single FASTSIGNS UK centre is able to supply leading digital signage systems to businesses across the country. Used either as stand alone or combined with a selection of tailored signage solutions, interactive digital signage is a fantastic way to engage your customers, boost your brand message and display information clearly.
If you're thinking about investing in this marketing technology but aren't sure where to start, read on to learn more about digital signage, the different types of signs and how it could help your business.
What is digital signage?
Digital signage solutions are similar to traditional signage, since they can display logos and communicate information. But instead of being printed onto a surface such as paper, plastic or textile, messages are displayed on an LED screen or another forms of digital projection.
Although there are similarities to traditional signs, there are also lots of reasons why digital signage is different - and why it's becoming so sought after. Digital signage is often interactive, and it can be quickly customised, in line with your marketing plans. One investment of a digital signage solution can then be used in numerous different ways, for many years to come. Simply update your software to change the input graphic - or why not try using video, or a slideshow gallery to display alternate messages?
Over the years, we have partnered with a range of UK and International suppliers of hardware and software to deliver the very best product solutions. As a result, we're able to meet a variety of digital signage requests, ranging from a plug and play system to a cloud-based management system that allows content to be updated quickly from a centralised hub.
What are the benefits of digital displays?
Interactive digital signage goes one step beyond traditional signage when it comes to customer engagement. Whether used inside or outdoors, it can attract the attention of passing footfall and customers to showcase new products or display promotions with the use of eye-catching animations, video or market-leading crisp graphics.
In some cases, digital displays can even assist with customer service - learn more about touch screen digital kiosks.
A main benefit of digital signage is its longevity and versatility. Digital displays truly are a long-term investment - one portable digital poster can be used to promote many different products or services at trade shows or pop-up-shops, without the need to print out a new sign each time.
What are the different types of digital signs?
If you want to learn more about the many types of digital signage available, take a look at our digital signage products. We've highlighted some of the most popular systems below:
Interactive digital signage
Digital signage can be powerful when hardware and content are delivered together, effectively becoming a virtual 'sales person' for your product or service.
Digital directory displays
This is an interactive solution. Users can use the touchscreen to scroll through staff, departments, meeting rooms and more to find the information they need.
Digital display board
You can use these in inside or outside settings. Quite simply, this uses a digital screen to display graphics, text or any other image, animation or video.
Digital kiosks and menu boards
These are often either a freestanding, vertical display, or a series of horizontal boards placed up a height on a wall. They're regularly used by hospitality businesses, and can quickly be updated to facilitate any seasonal menu changes.
Digital posters
A dynamic twist on the classic paper poster. They're portable and fully customisable - perfect for trade shows.
Which industries can use commercial digital signage?
Digital signage is becoming very popular with our customers across all industries. We've provided end-to-end solutions for sectors including hospitality, leisure, retail, education, healthcare and more. Because they're so versatile, there's no end to the possibilities of digital signage - if you have a message to get across, digital signage can help.
At FASTSIGNS we've been delivering high quality digital signage solutions for many years. We've spent time listening to our clients to create market-leading solutions with great support packages and warranties that you can trust.
Learn more about our range of interactive digital signage.