For the UK's non-essential businesses, the last four weeks have been somewhat of a hibernation period, as the UK government acted to slow the spread of the Coronavirus by restricting the UK populations ability to work, socialise and travel.
We are in full support of these measures and whilst the threat of the Covid-19 is still very real, at some point the UK will be permitted and encouraged to return to work. However, and whenever this happens, easing society back into a 'normal' routine will take time and patience, with many business owners having to take responsibility for ensuring social distancing and proper hygiene procedures are adhered to within their places of work.
There are numerous types of signage solutions that can help you achieve social distancing and get staff and customers behaving in the recommended way, whilst within your facility.
Promote Social Distancing Messaging Everywhere - The UK population is becoming quite adept at social distancing, however, this is with only a small proportion of the population being active. Once we start to return to some level of normal activities, social distancing may become more of a challenge. Share your social distancing messages with window graphics that denotes customers expected behaviours before they enter your business premises. Whilst inside your premises, use our Autopop Totems or Pull Up Banners to promote these message and encourage all to act appropriately.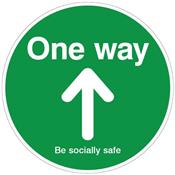 Direct Foot Traffic - Reduce traffic in hallways, corridors or aisle with anti-slip floor graphics which map out a one-way system around your floor space. This will reduce the number of interactions and help keep people spaced at appropriate distances. Floor graphics can also be used outside your facility and could be either a pained stencil design or hard-wearing vinyl.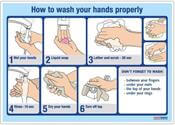 Hand Washing & Procedure Signs - With staff sharing facilities, it is important you mandate some strict hygiene procedures for all to follow. By displaying signs that encourage hand washing and rigorous cleaning procedures can help your staff to feel safe within their working environment.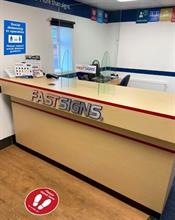 Cough Screens - People need social interaction and whilst social distancing is encouraged, the opportunity to see a smile can go a long way. These acrylic screens can be sent to you as flat-packed systems that can be easily assembled on countertops, creating a barrier between your staff and the general public. They are also available in branded and unbranded designs and sizes.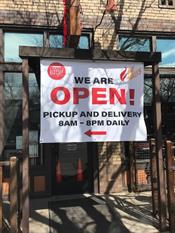 Banners & A-Frames - Before 'lockdown' was announced, many businesses tried to remain operational by changing their service offering to try and accommodate social distancing. It's highly likely that as businesses phase back to full operations, they will be operating in a similar way. Use signs like Banners and A-Frames to inform passing footfall of your service offerings from a distance.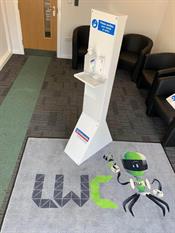 Sanitisation Stations - You may feel the need to ask all patrons to disinfect their hands when entering and leaving your premises. Have strategically positioned sanitisation stations with your branding and required messaging to ensure everyone understands your required actions.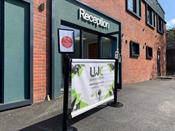 Breeze Barriers and Queue Management - Manage the number of people trying to enter your facility by using breeze barriers to clearly define where people can safely stand whilst queuing for entry. These barriers can be branded or used to share important information on social distancing.
Depending on your business offering, any combination of these products could be used to provide information that will go a long way to keeping your patrons and staff as safe and as protected as possible whilst they go about their business.
If you are ready to prepare your business for it's return to operations, we are more than ready to help. For more information, request a quote from your nearest FASTSIGNS centre.