The Challenge
HCSS Education is a leading education finance specialist in the UK that needed rebranding to coincide with a move to larger offices. FASTSIGNS® consulted with HCSS for ideas on incorporating branding within the strict guidelines of the landlord.
The Solution
After discussing options for branding HCSS Education's new premises, the FASTSIGNS team designed, produced and installed signage and visual graphics that complemented the brand.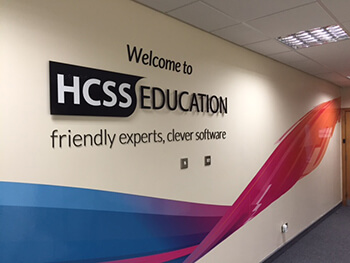 By producing mock-ups for the majority of the solutions, FASTSIGNS helped HCSS visualise how the finished designs would look when installed. FASTSIGNS provided office signs and graphics and also consulted with HCSS on the development of visually impactful images throughout the office. "The customer wanted to reference their company values of respect, innovation, passion and excellence," FASTSIGNS' Richard Wedgwood explained. "We developed graphics that clearly referenced their 'values' but provided a visual impact to anyone visiting the reception area."

The reception area consisted of a large glass wall and a large internal wall. Blending wall graphics in meeting rooms with window graphics throughout the office with wayfinding signage, FASTSIGNS helped HCSS Education utilize their new brand identity. Other signage solutions included staircase and room identification signage.

FASTSIGNS extended the company's brand identity to printed business stationery including business cards, gift cards, compliment slips and letterhead. FASTSIGNS provided printed materials and signage for HCSS Education that allowed flexibility and branding for unique events and exhibition.

"We created business stationery to communicate with their customers," Wedgwood said. "We developed banners and promotional gifts as a large part of HCSS's business takes place at events and conferences throughout the UK."

FASTSIGNS also provided exhibition materials to promote the company's software solutions including fliers, pop up banners and wraps for exhibition stands.
The Result
By helping HCSS Education with rebranding for their office premises, customer communications and promotional products, FASTSIGNS provided solutions to numerous challenges. The centre has completed visually attractive projects for HCSS within the required timescales.

*FASTSIGNS® of Manchester is owned by Richard Wedgwood and Nick Ratcliffe.