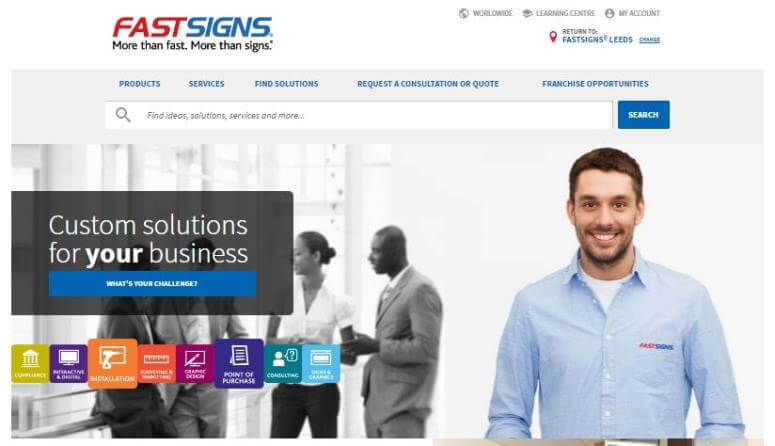 After a year of development and months of beta testing, the new FASTSIGNS.co.uk website is now live! Our developers have been working hard to incorporate new ideas to make it easier for you, and your local FASTSIGNS team, to work on your next project.
Here are nine things you really should try out on the new website:
Here are nine things you really should try out on the new website:
Easy Navigation from the Get-Go

Our website allows you to choose how you navigate the site from the first time you visit. Whether you aren't sure what you want and are just having a browse, or you know exactly what your product or service needs are, our new website will make it super easy to get around and find what you need.

Find a Solutions Fast

We have now added pages which can help solve your challenge by project type. Whether you are looking to rebrand your business and don't know where to start or are working on an Interiors project and need some inspiration – the new 'Find Solutions' page will help to guide you in the right direction.


Search Thousands of Product Images

We have added literally thousands of photos to the new site to allow you to search for exactly what you are looking for, even if it's just ideas. You can search by type of project – wall graphics, vehicle wraps or safety signs, sign material (acrylic, aluminium, glass etc.), the main colour, even the specific industry to see what other people have done in the past. Add these quickly and easily to your IDEABOOK for future reference.

Create your own IDEABOOK

The IDEABOOK has been designed to help you collect images to help get your next project off the ground. Not sure exactly what you want? You can browse our extensive gallery of images and save the ones that you like to your IDEABOOK. It works pretty much like a scrapbook, except you can then share your favourite images with us or your colleagues and friends.


Request History

Don't lose track of anything you have worked on, even if it's been months since you requested a consultation or quote for your signage projects. Found in the 'My Account' section, this functionality makes it easier for you to reorder past items, view past quote requests and even see files you have sent in for previous projects.

Connect With Us

We love working at the heart of our community and now have new ways that you can connect with us. We now have a blog page which will be filled with stories about our activities helping local businesses, charities and schools. You can also share any photos you like, directly from our website, with your friends and colleagues. Best of all; connect with us on Social Media to get access to the latest offers and giveaways.


Get in Touch Quickly & Easily

Our new sticky bar means that no matter how far you scroll, you can get in touch for a quote or consultation quickly and easily. Once you start searching our product images, this will come in handy!


Send Massive Files Directly to Us

Forget 'We Transfer' or bounce backs from your emails – you can send your artwork or other large files directly to us using the 'Send a File' link. If you are logged in to your account, you will be saved for future use.
Always wanted to work in a creative and dynamic environment where no day is ever the same? You can find out about vacancies in our centres or even how to run your own FASTSIGNS franchise. There are even opportunities for existing businesses within the signs and graphics industry to partner with FASTSIGNS in a Co-Brand.
Go to www.fastsigns.co.uk now and have a look around! Don't forget to search for your local centre or call us directly to request a consultation on (017) 852-5314 x0.