Graphic Design is a cornerstone of FASTSIGNS service. This element of our signage production process takes the possibilities of your signage ideas and transforms them into visual representations of exactly how your signage will look. You can start to visualise exactly how your sign will look in situ and start to get excited about the impact those signs will have on your business!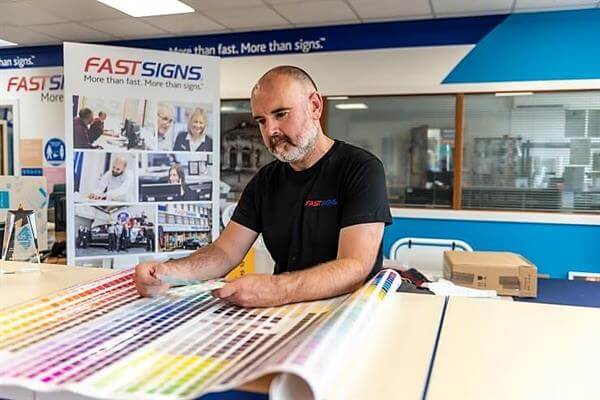 Graphic Designer, Vinny Symmes of FASTSIGNS Leeds discusses why he believes his job role is the best!
How long have you been with FASTSIGNS?
I've been working at the Leeds branch for just over 12 years as the Senior Graphic Designer.
Wow, that's a long time, what keeps you excited about the role?
It is a long time but I think the variety of the job keeps it extremely fresh. No day is ever the same, no job is ever the same, and no graphic design is ever the same. I really enjoy working with customers and our signage team to take ideas for designs and give them a visual aesthetic that exceeds the customer's expectations. That's the goal, and it never gets old!
How creative can you be in your role?
This varies from project to project. If signs require a strict design or set features and if that is the requirement of the customer, of course, we solve that challenge by laying text out in a clear and legible way. If the signage brief is to create something that really has an impact, I love taking the design ideas and requirements from the customer and their signage expert and using my skill set to elevate that design even further, whatever the objective of the sign is!
How has graphic design changed over the years?
The fundamental part of the job, as in creating designs, hasn't changed but the way in which we design has. This is another reason I've been here for so long! Customer tastes, trends and fashion changes. A design I might have created five years ago will have evolved. I love working with customers on the evolution of their signs over time and helping them stay current and relevant in their markets.
Where do you get your inspiration from?
Every project is different so collaboration with the customer is important, their business needs really drive the inspiration behind their individual project. On a personal level, I'm always keeping my eyes peeled for design inspiration, I might be sitting in an airport lounge and see great use of font or colour that gives me an idea for a design!
How will graphic design evolve in the future?
As I've said, signage is always developing. We use Adobe cloud applications such as Illustrator and InDesign to create designs. With the increasing use of digital signs, it's important that our design service moves with the times. We are now creating many motion graphics that will help keep our customers ahead of the competition.