The pace of life in 2016 is hectic and digital signage is rapidly becoming the key to sharing information quickly and efficiently in the modern era.
Gone are the days where a grey notice board with ratted paper notices would suffice as information providers, digital and interactive signs are becoming a way life with more and more innovative uses being found for them by the week. Even for small businesses being an early adopter of digital and interactive signage and screens could lead to greater brand loyalty, a new customer base and a reduced advertising cost in the future.
Our youngest generations are entering a world where touch screens are common place thanks to mobile devices and with shortening attention spans increased visibility and the pull of interactivity is key to getting customers engaging with your business.
How Digital and Interactive Signage is revolutionising industries
Retail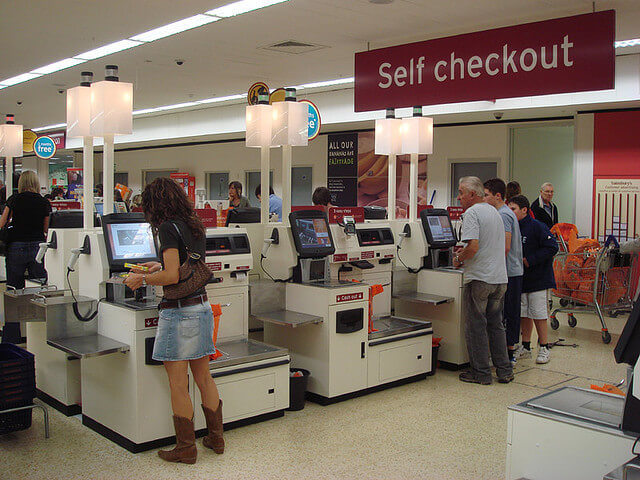 UK supermarkets have already adopted self -service check outs and as peoples shopping habits become more spontaneous these digital additions allow customers to complete their shopping as quickly as possible. These are the forerunners to the next generation of interactive signage in stores, mirroring online shopping. The kiosks of the future could allow shoppers to check if items are available, highlight its location in store and allow them to order something that is out of stock whilst in the physical store.
Education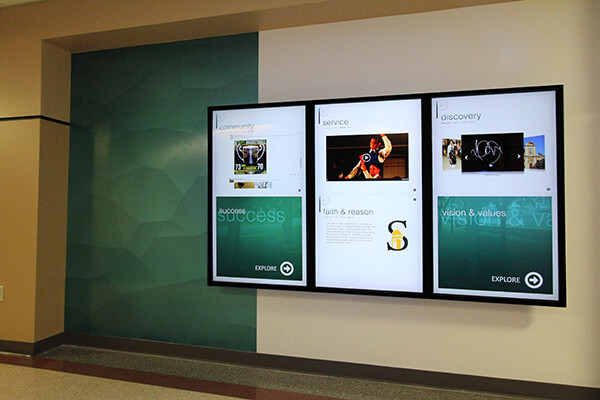 Digital screens are beginning to be adopted by universities, full of Generation Z students born after 1996 who have hardly known a world without internet the obvious choice for education is to go digital. Using interactive and digital signage as wayfinding tools, universities are able to keep their young populous engaged and informed through the medium of their choice.
Healthcare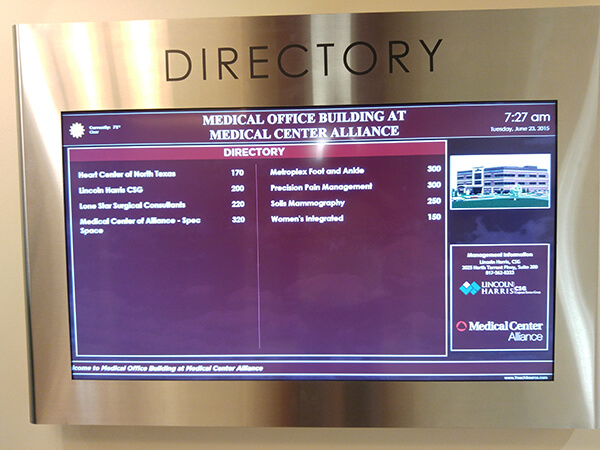 Digital and interactive screens and signage are having a positive effect on even the most rural GP surgeries with interactive signs being used for checking in purposes and providing information. Many of the UK's Heath care services now operate a silent waiting room policy with important information being delivered via screens and delivering important healthcare warnings using bright, modern and engaging displays.
Restaurants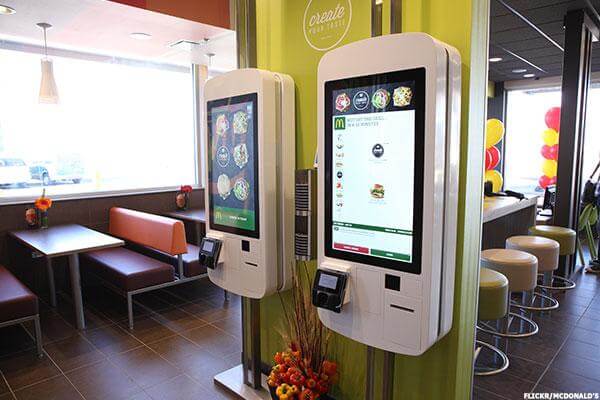 UK restaurants and hospitality chains are just beginning to dip their toes in top the possibilities offered to their industry by digital and interactive signage. Fast food chain, McDonald's have used Europe and the UK as testing ground for digital self-service kiosks, in a bid to streamline the customer experience and relieve the stress from the front counter. It is only a matter of time before digital signage starts to gain more traction in the UK and the opportunities for ordering, paying and checking in via digital means could lead to increased loyalty, individual service through personal profiles and reducing waiting times significantly.
McDonald's Rolling Out Self-Ordering Kiosks in Europe; Will U.S. Be Next?