The Opportunity
Search Laboratory, a UK digital marketing agency specialising in SEO, moved to larger premises and realised the new space was essentially a blank canvas in need of branding. The company decided this was a perfect opportunity to inspire its highly creative team using their work environment.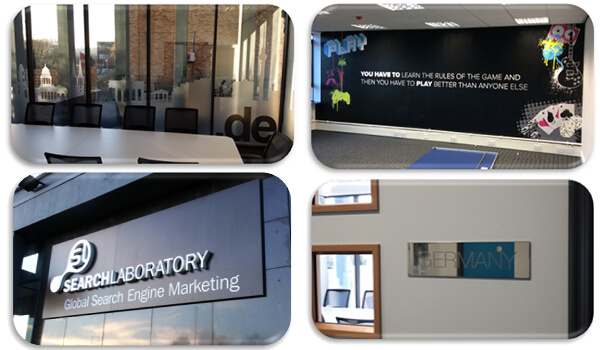 The Challenge
The agency contacted FASTSIGNS® to help it create an awe-inspiring space for staff and visitors that also delivered the wow-factor for people walking or driving past the building. Search Laboratory had a vision and needed help from FASTSIGNS to turn it into reality.
The Solution
FASTSIGNS consulted Search Laboratory to brainstorm ideas for various signs and graphics for the campus. FASTSIGNS provided visual solutions to create the required impact and to complement the colours and textures elsewhere in the building so continuing the identity.

"I included one of my designers in a meeting with the client," explained FASTSIGNS' Andy Simpson. "With the additional insights gathered from the initial meeting, our designer provided creative designs for Search Laboratory's décor."

Rather than using simple shapes, FASTSIGNS designed customised frosted window graphics to represent the shape of country skylines and turned blank walls into inspirational canvases using quotes and wall murals throughout the building.

FASTSIGNS created a roof-mounted logo and illuminated, dimensional sign for the facade to help the agency stand out on the exterior of the building. The team also provided directional signs for the parking lot to help visitors and employees find their way.

To encourage spur-of-the-moment creativity, FASTSIGNS designed dry-erase graphics and wraps that adhered directly to the walls in various places around the building. The office received a modern look using etched stainless steel room identification signs and frosted vinyl on the meeting room's glasing.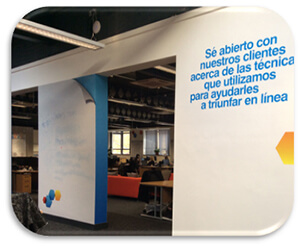 The Result
FASTSIGNS delivered its visual communications mandate to help Search Laboratory create a stimulating work environment. Simpson added, "The staff are delighted in the creative and modern feel of their workplace as a noticeable improvement over the previous offices."
In addition to exceeding its client's expectations inside the building, the FASTSIGNS team also succeeded in branding the exterior of Search Laboratory so that it promoted its identity, both day and night.
*FASTSIGNS® of Leeds is owned by Andy and Chris Simpson.