As the UK begins to look to the future and creating a life where we can live and work, in spite of the threat of Coronavirus, many businesses will start to reopen. The staff and customers that frequent these businesses need to have confidence that their health and safety has been considered, as part of a businesses return to operation strategy. In this blog, we have created a checklist of things that business owners should consider when preparing for their business return.
1. Let Customers Know Your 'Back to Business'

As businesses start to reopen, based on the government guidelines, it makes sense for you to share your reopening message with your local audience. Do this by installing a banner that clearly states you are open, which people can easily read from a distance. Although your business may be reopened, you may have had to change your operations procedures and service capabilities to accommodate social distancing and staff safety. Include this information using Aframe, pavement or kerb signs to tell your customers about the changes to your service offering.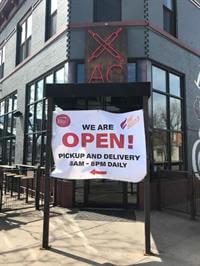 2. Proactively Prepare Your Site

Look at your business facility objectively. When people come in, where do they go, what actions do people take and are there any areas where social distancing may be hard to maintain? If you can identify the answers to these questions, you can work out the signage you need to keep your customers informed. Some of the signage you could consider might include an advisory notice as people enter the building, a suite of floor graphics that remind people about social distancing and guide them around a one-way system, that can help alleviate any congestion prone areas.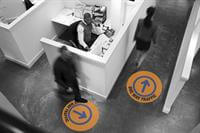 3. Create Policies and Enforce Them

Depending on your business, you will need to set out certain policies to ensure safety remains a priority. These policies could mean patrons having to have their temperature taken before they enter the building or only having a certain number of people in any room, at any one time. Whatever your policies are, for people to follow and act to uphold them, they need to be fully aware of what is required of them. Clearly inform your staff, customers and guests about procedures using eye-catching advisory notices, positioned in strategic locations within your facility.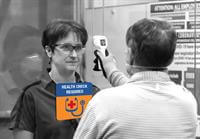 4. Create Peace of Mind for your Customers

Use signage to showcase your cleaning policies and rotas. Although this isn't something you would normally promote, in times like these, sharing this information can help to build trust in your service.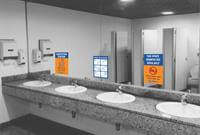 5. Create Barriers

Whether your business is customer-facing or office-based there are situations where social distancing physically can't take place. In this case, create a tangible barrier between people using an acrylic screen or a cardboard alternative with a plastic insert. These transparent screens allow people to be separated without compromising on visual cues and wellbeing that come from the ability to see another person.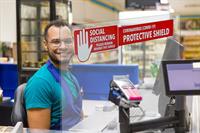 6. Use Personal Protective Equipment

Providing personal protective equipment for staff is a priority. Items such as face masks, shields or visors can help your business return to operations more quickly. Providing readily available hand sanitizer and handwashing facilities in numerous locations can make your staff feel safer whilst fulfilling their job roles.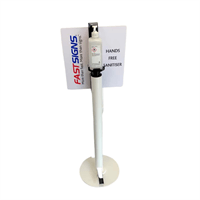 If you need any support implementing any of these measures into your business operations, FASTSIGNS is more than ready to help. Visit our Social Distancing dedicated pages, here for more information about the social distancing signage you could implement.