Signs and graphics are what helped essential businesses and organisations communicate during an unprecedented pandemic and mass quarantine. Now, with the gradual reopening, it is vital for small businesses to have the right visual communications in place.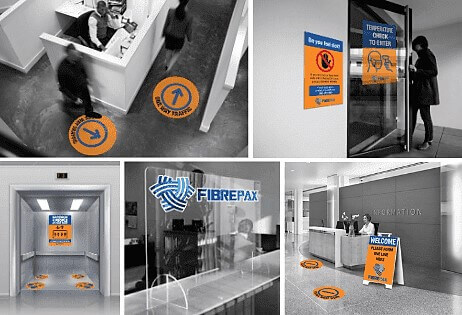 These custom signs and visual graphics should strike a balance between safety requirements and consistent branding. There are multiple opportunities, from the moment someone drives up to your business and enters to the moment they prepare to exit. Here are just a few ideas for how you can incorporate your branding into your essential safety and directional signage.
Differentiate with Branded Directional Signs
As visitors, patients or customers arrive at your business, are they easily guided to where they need to be? Maximise this first impression by instilling confidence with well-marked signs that don't blend into the background. Designate contactless pickup areas and direct traffic with signage specifically designed to mirror your branding. Feather flags, A-frames and site identification signs can be moved as needed to adapt to traffic flow. 
Enhance Barriers and Shields for a Better Experience
Sneeze guards and acrylic screens are becoming permanent fixtures, but they don't have to be stale. Add information about specials, display your company values or incorporate decor elements from your organisation's look and feel to provide a less clinical experience. Using vinyl, graphics can be updated frequently to suit changing needs. Frosted vinyl can provide privacy and ambience for the barriers between tables and restaurant booths. 
Form Brand Connections with Floor Graphics
Floor graphics are helpful for reminding those waiting in a line to stand several feet apart. They should also align with your other marketing visuals. For example, a certain popular retailer could create circle floor graphics of targets that let customers know exactly where they should stand to maintain a safer distance. Don't skip on the design of your social distancing floor graphics and decals. Take advantage of the wait time and make the most of this additional touchpoint.
Transform Lifts into Unique Visuals
Signs and stickers on lifts are now outlining the maximum number of people that should ride to reduce germ transmission. A vinyl wrap can provide the same information in a way that is more aesthetic and on-brand. In hospitals and medical buildings, a lift door wrap with images of employees could display a message to visitors and patients, thanking them for following the guidelines to better keep frontline workers and medical personnel safe.
Your business and it's brand is unique, and your COVID-19 compliant signage should be seamless extensions. The possibilities are virtually endless and can change with your business as we all figure out what normal looks like.