Prior to Christmas, there were positive signs that 'light could be seen at the end of the tunnel' for vanquishing the Coronavirus Pandemic. With the announcement that the Pfizer vaccine had been approved and its hotly anticipated Oxford counterpart, not far behind there was great cause for optimism.
Fast forward to January, the new variant of Covid-19 is increasing transmission, leading to a third nationally imposed lockdown. This brought into sharp focus the need to create facilities where the vaccine can be administered on a mass scale, in a safe and managed way.
In December, FASTSIGNS helped East Elmbridge Primary Care Network to prepare for their status as a Vaccination Centre. Previously a Coronavirus Hot Hub, this facility needed to morph into a location that could effectively manage the flow of patients around the facility, creating an optimised vaccination process.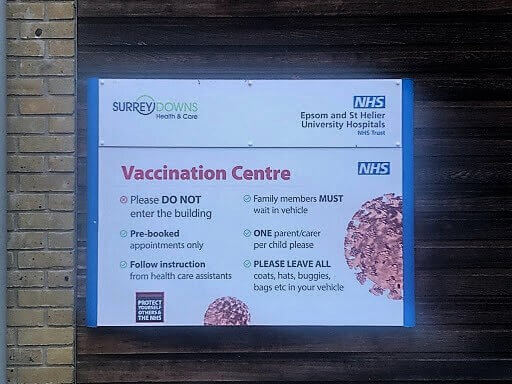 Back in March, FASTSIGNS provided the healthcare facility with numerous signs, that indicated best practice for social distancing, wayfinding and appropriate hygiene notices throughout the building. To ensure a swift implementation of the new 'Vaccination Centre' status, the original signs were updated with new headers, where appropriate and replaced in full if required.
Vinyl Banners were installed to indicate parking bays helping to manage traffic in the centre's car park, which is expected to be consistently busy, as increasing numbers of patients arrive for their inoculation.
Exterior wall graphics were used to clearly showcase the processes patients should follow when arriving at the centre. These instructions include not entering the building until their allocated appointment times, and only attending pre-booked appointments.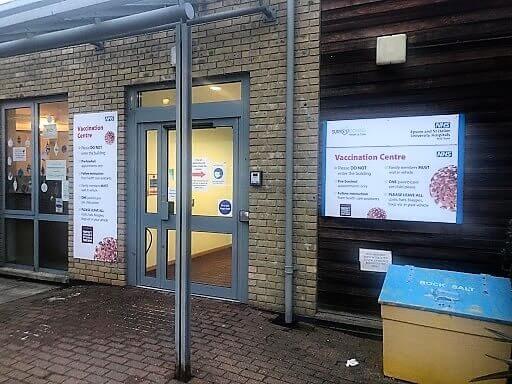 Pavement signs, specifically the Ecoflex2 model, are positioned to clearly showcase the directional information regarding queuing and fast track lanes for injections.
To manage large cohorts of people, recommissioned army tents have been installed in the car parks to create vaccination bays, each requiring a triangular identification sign to clearly indicate their number and help patients attend the correct bay, streamlining the process.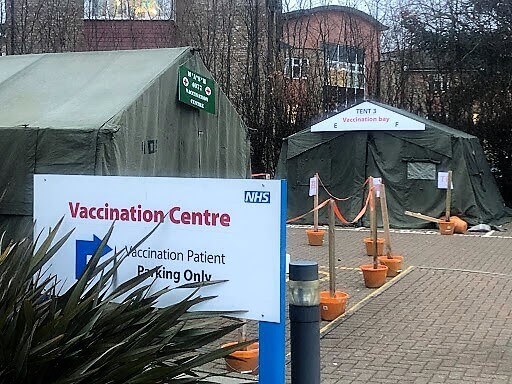 Finally throughout the site, 2M floor graphics have been installed to help keep strict social distancing at the top of patients minds, as they stand in line for their vaccine.
FASTSIGNS UK are aware of 1,300 Primary Care Networks, in the UK, that are likely to recommission as vaccination centres, along with other facilities that can accommodate large crowds of up to 500 people, daily. These facilities will be used to implement the vaccination programme. If you need help transforming your facility into a Vaccination Centre, FASTSIGNS have the expertise to help, contact us today to discuss your requirements.